Assessment of Disorders in Childhood and Adolescence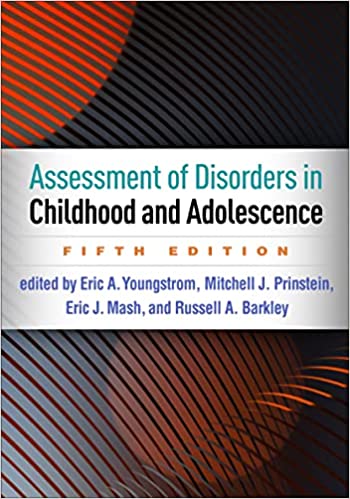 Also by Eric A. Youngstrom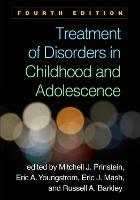 This leading course text and practitioner reference has been extensively revised with 90% new content, covering a broader range of child and adolescent problems in more concise chapters. Prominent authorities provide a comprehensive framework for evidence-based assessment. Presented are methods and tools for developing effective diagnoses and case formulations, building strong treatment plans, monitoring progress, and documenting outcomes. Chapters are packed with practical guidance, handy tables, and sample instruments. Illustrative case material is included.
New to This Edition
*Many new authors and topics, reflecting over a decade of research and clinical advances.
*Updated for DSM-5 and ICD-11.
*Chapters on additional disorders: obsessive–compulsive disorder, persistent complex bereavement, and body dysmorphic disorder.
*Chapters on transdiagnostic concerns: sleep problems, risky behaviors, and life stressors.
*Four chapters on the "whys" and "hows" of using assessment in each phase of treatment.
*Disorder-specific "starter kits"--lists of essential checklists, rating scales, interviews, and progress measures, including links to exemplary free measures online.
About the Editor(s)
Russell A. Barkley, PhD, ABPP, ABCN, is Clinical Professor of Psychiatry and Pediatrics at the Medical University of South Carolina. Dr. Barkley has published numerous books and five assessment scales, plus more than 275 scientific articles and book chapters on ADHD, executive functioning, and childhood defiance. He is also the editor of the newsletter The ADHD Report. He has received awards for his career contributions to research, clinical practice, and the dissemination of science from the American Association of Applied and Preventive Psychology, the American Academy of Pediatrics, the Society of Clinical Child and Adolescent Psychology (APA Division 53), and the Society for a Science of Clinical Psychology.
More titles by Russell A. Barkley
Jonathan S. Abramowitz, PhD, is Professor of Psychology and Director of the Anxiety and Stress Disorders Clinic at the University of North Carolina at Chapel Hill. Before moving to North Carolina, Dr. Abramowitz founded and directed the OCD and Anxiety Disorders Program at the Mayo Clinic in Rochester, Minnesota. His award-winning research on OCD has been supported by the National Institute of Mental Health, among others, and he serves on the Scientific Advisory Board of the Obsessive Compulsive Foundation. A frequent conference presenter, Dr. Abramowitz is widely quoted in the media. He lives in Chapel Hill with his wife and two daughters.
You may also like