Asperger's Children: Psychodynamics, Aetiology, Diagnosis, and Treatment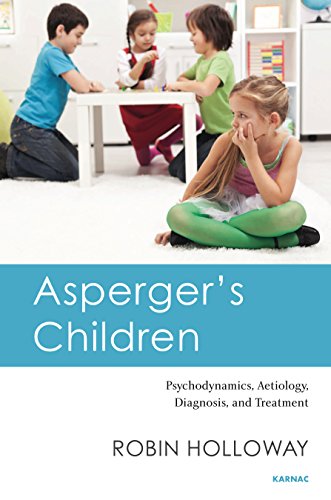 The DSM-5 (2013) classifies all autism-related disorders, including Asperger's, under the heading "autism spectrum disorder." This book argues that this lumping together is unhelpful for clinicians. Instead, finer diagnostic distinctions are helpful to clinicians who treat children with Asperger's.
This book spells out in detail the psychodynamics the author has repeatedly uncovered in Asperger's children, adolescents, and adults, and explores the central factors in the aetiology of Asperger's Disorder. There is a section suggesting how Asperger's can be adequately diagnosed from "the outside" (using external descriptive features) and more importantly from "the inside" (based on internal psychodynamic processes). Finally, there is a section outlining psychodynamic treatment approaches to Asperger's children, based on their psychodynamics and on which type of Asperger's is present.
The book includes numerous case illustrations to help the reader appreciate the central psychodynamics that are regularly observed in Asperger's children, namely splitting of the self into victim and bully aspects, and projective identification into remote objects. On the basis of their psychodynamics, and especially which aspect of their split self is predominant, three different types of Asperger's are outlined which require different treatment approaches.
Reviews and Endorsements
'This enlightening book offers the reader valuable understanding of children, adolescents, and young adults who suffer from Asperger's Disorder. Robin Holloway demonstrates his psychoanalytic psychotherapy skills through extensive clinical material showing how all of his child and adolescent patients share a deep need for insightful and sensitive help. He makes a convincing argument that Asperger's Disorder should remain a valid diagnosis and provides data to demonstrate its usefulness. Every clinician who works with children, adolescents, and adults who suffer from Asperger's Disorder should read this comprehensive volume that begins with the history of Asperger's and ends with help in treating those with Asperger's. This remarkable book is a much needed and welcome addition to the literature.'
- Ann G. Smolen, PhD, author of Mothering Without a Home: Attachment Representations and Behaviors of Homeless Mothers and Children, and Six Children: The Spectrum of Child Psychopathology and its Treatment

'Dr Holloway has written an extremely well researched and informative book on Asperger's children. It is very clearly written and full of wonderful clinical illustrations of the author's sensitive and creative work with these young people. He thoroughly covers a wide range of topics including diagnosis, psychodynamics and the difficulties the psychotherapist encounters with these patients. His discussion about the relative factors of neurological, traumatic and object relational features of Asperger's syndrome should be extremely helpful to the practicing clinician, whether one is new or experienced in therapeutic work with these individuals.'
- Lawrence J. Brown, PhD, Supervising Child Analyst, Boston Psychoanalytic Institute; author of Intersubjective Processes and the Unconscious: Freudian, Kleinian and Bionian Perspectives

'This is a very important book. It addresses all of the big issues concerning the treatment, diagnosis and aetiology of these children's condition, and it does so with great and encyclopaedic scholarship, profundity, and clinical wisdom. It is brilliant, but it is also a fascinating read.'
- Anne Alvarez, PhD, MACP, Consultant Child and Adolescent Psychotherapist; retired co-chair, Autism Service, Tavistock Clinic, London

'The author presents, in a vivid way, his practice with Asperger's children, adolescents and adults. He raises original hypotheses that greatly contribute to broadening and deepening our observations and reflections on children with this condition.'
- Nilde Franch, training and supervising analyst of the Brazilian Psychoanalytical
Society of Sao Paulo, and member of the IPA Committee on Child and Adolescent Psychoanalysis
About the Author(s)
Robin Holloway provides psychoanalytic psychotherapy to children and adolescents. He is a graduate of CICAPP (the Canadian Institute for Child and Adolescent Psychoanalytic Psychotherapy) where he is a supervisor and a teacher. He worked in a public hospital and participated in weekly diagnostic intake meetings for children with autism spectrum disorders. He is now in private practice at the Willow Centre in Toronto, where, he has continued to treat high-functioning autistic children and those with Asperger's Disorder.
You may also like