Are Leaders Born or Are They Made? The Case of Alexander the Great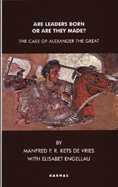 Book Details
Publisher : Routledge
Published : 2004
Cover : Paperback
Category :
Organisational Psychology
Catalogue No : 18430
ISBN 13 : 9781855753150
ISBN 10 : 1855753154
Also by Manfred F.R. Kets de Vries
This engaging study of the life of Alexander the Great, the charismatic leader who created an empire that spanned most of the ancient world, provides an in-depth look at the psychodynamics of leadership that will be of use to contemporary leaders in business and politics, and to consulting and training organisations.
In the first part of the book, the authors weave the fascinating tale of Alexander's life, whilst highlighting his considerable leadership skills. They then analyse Alexander's personality and behaviour from a clinical perspective to demonstrate the psychological forces that shaped those leadership qualities. They look at the key facets of Alexander's leadership technique in detail, as a practical demonstration of effective leadership, an conclude by cataloguing Alexander's strengths and, just as importantly, his weaknesses for the vital lessons in leadership.
This volume provokes both introspection and inspiration in the minds of its readers. It is vital reading for all managers and management consultants, MBA students, and all concerned with effective leadership.
'In analysing Alexander's personality and behaviour, this book takes a clinical perspective. It relies on concepts of the developmental psychology, family systems theory, cognitive theory, dynamic psychiatry, psychotherapy, and psychoanalysis to understand his behaviour and actions. Exploring themes that highlight psychological dimensions of Alexander's leadership style, these pages draw observations about the lessons of leadership that can be learned from his behaviour.'
- From the Introduction
Reviews and Endorsements
'Machiavelli and Clausewitz wrote their own theses on leadership. Now Kets de Vries and Engellau have written Alexander the Great's for him - sympathetically, astutely and with great learning to be had for all in leadership positions. I strongly recommend it.'
Anton Obholzer, Psychoanalyst and Consultant Psychiatrist
About the Author(s)
Manfred Kets De Vries is a clinical professor of leadership development and a consultant on organizational design/transformation and strategic human resource management to leading worldwide companies. He holds the Raoul de Vitry d'Avaucourt Chair of Leadership Development at Instead, Fontainebleau, France. He has also held professorships at McGill University, the École des Hautes Études Commerciales, Montreal, and the Harvard Business School, and he has lectured at management institutions around the world. He is the author, co-author, or editor of over 20 books. The Financial Times, Le Capital, Wirtschaftswoche, and The Economist have judged Manfred Kets de Vries one of Europe's leading management thinkers.
More titles by Manfred F.R. Kets de Vries
Elisabet Engellau works as an independent consultant focusing on one-on-one executive coaching, leadership development, cross-cultural management and team building. She is a member of the faculty at INSEAD, the Center for Creative Leadership, and the Stockholm School of Economics. Presently, she is in charge of coaching in the Advanced Management Program as well as other top executive programs at INSEAD.
You may also like