Anxiously Attached: Understanding and Working with Preoccupied Attachment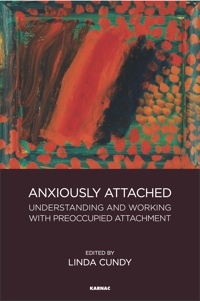 Book Details
Publisher : Routledge
Published : August 2017
Cover : Paperback
Pages : 116
Category :
Attachment Theory
Catalogue No : 39230
ISBN 13 : 9781782205197
ISBN 10 : 1782205195
Also by Linda Cundy
Anxiously attached individuals feel chronically insecure and their relationships are often intense, angry, and enmeshed. In the spectrum of anxious attachment, some people tip into states of acute rumination following specific life events, while an extreme manifestation may be thought of as "borderline borderline" – inescapable brooding, raging, and inability to separate. Preoccupied clients can be difficult to work with, and these therapies often feel stuck or end badly.
Anxiously Attached contains four papers presented at a conference in February 2016. They address the origins of anxious attachment in specific features of parent-infant relationships, findings from research about developmental aspects, typical features, concerns, and defences in adults, and how these may be presented in psychotherapy. Enmeshed dynamics in adult relationships, including the therapeutic relationship, are also highlighted, where threat of separation and loss activate intense attachment seeking.
The aim is to increase understanding of preoccupied clients from an attachment perspective, to recognise the nature of their anxieties and resistances, and propose specific skills for therapeutic work.
Contributors are Dr Amanda Jones (parent-infant psychotherapist), Dr Steve Farnfield (attachment researcher and child therapist), Linda Cundy (attachment-based psychoanalytic psychotherapist) and Anne Power (attachment-based psychotherapist with individuals and couples). Dr Maggie Turp provides the Introduction.
Reviews and Endorsements
'This delightful book is reminiscent of a perfectly balanced Haydn quartet: clear, lively, and original. Exchanging ideas about a new–found harmony of psychoanalytic practice and attachment research, each performer reveals profound emotional and clinical depths. Therapists of all ages will resonate and learn from this little gem.'
—Professor Jeremy Holmes, University of Exeter, UK

'A fascinating, rich and surprisingly rare array of thinking about the therapeutic implications of working with ambivalent attachment styles. This book is full of clinical wisdom and is a very helpful bridge between the science of attachment theory and direct work with a very challenging clinical group.'
— Graham Music, Consultant Child Psychotherapist and former Associate Clinical Director at the Tavistock Clinic in London
About the Editor(s)
Linda Cundy is an attachment-based psychoanalytic psychotherapist with a private practice in North London. She has taught for two decades on counselling and psychotherapy courses and is also an independent trainer specialising in attachment, human development, and clinical practice. She is Course Director and lead tutor of the Post-Graduate Diploma in Attachment-based Therapy, and consultant to the Foundation Diploma in Attachment-based Counselling, both at the Wimbledon Guild. She is Chair of Hackney Bereavement Service, which offers face-to-face and real-time online bereavement counselling to residents of the London Borough of Hackney aged fifty and over. Trained as a counsellor in the 1980s, Linda worked for a number of years for ChildLine and for mental health services until retraining at the Bowlby Centre in the 1990s.
You may also like