All That We Are: Uncovering the Hidden Truths Behind Our Behaviour at Work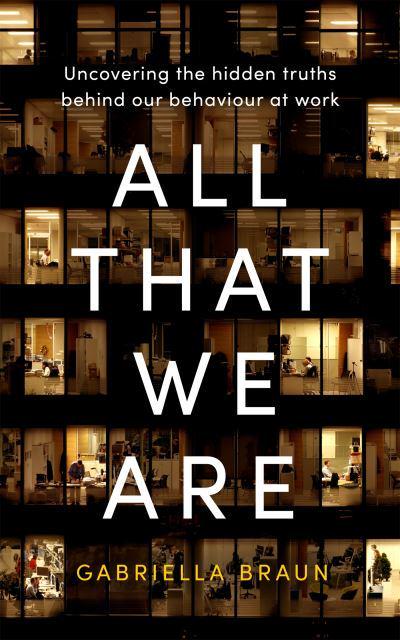 Book Details
Publisher : Piatkus
Published : February 2023
Cover : Paperback
Pages : 264
Category :
Psychoanalysis
Category 2 :
Organisational Psychology
Catalogue No : 97066
ISBN 13 : 9780349427300
ISBN 10 : 9780349427
Longlisted for the 2022 CMI Management Book of the Year Award
Who do you bring with you to work?
Try as we might, we cannot leave part of ourselves under the pillow with our pyjamas when we go to work. We bring all that we are.
In this collection of stories, Gabriella Braun shares insights from over twenty years of taking psychoanalysis out of the therapy room and into the staff room. She shows us why a board loses the plot, nearly causes their company to collapse, and how they come through. We see the connection between a headteacher's professional and personal loss. We understand seemingly unfathomable behaviour - why a man lets his organisation push him around, a lawyer becomes paranoid, a team repeatedly creates scapegoats, and founders of a literary agency feud.
At a time when we are re-thinking the workplace, All That We Are shows that by taking human nature seriously, we can build more humane organisations where people and their work can thrive.
Reviews and Endorsements
Gabriella's masterly use of stories draws us into workplace dilemmas that will resonate with many readers. Like a true master of her craft she uses curiosity, reflection and her deep understanding of psychoanalysis to unravel the complexities of human interactions. Illuminating, intriguing and hopeful. I hope it's used widely to help organisations to become emotionally healthy workplaces. - Kathryn Mannix, author of With The End In Mind and Listen

A remarkable book ... it will move you and awaken a new respect for your colleagues and even your employer ... Braun moves effortlessly between memoir and professional insights and the result is - like all workplace dramas – gripping. - Isabel Berwick Financial Times

Such a compassionate and discerning book. This rich work weaves in Gabriella Braun's own intriguing journey and psychodynamic theory. It has the potential to make organisations and teams more thoughtful about why they struggle and deserves a wide audience. - Gwen Adshead, author of The Devil You Know

Essential reading for anyone who's ever felt rattled by workplace dynamics and a powerful reminder that we can't separate our emotional worlds from work. - Marie Claire UK

All That We Are is without doubt one of the most important books about the workplace ever published. It lays bare the profound emotional context we all bring to work and how to resolve inner conflicts with colleagues, and indeed ourselves. - Julia Hobsbawm, founder, Editorial Intelligence and author of The Nowhere Office

A fascinating book which digs into the truths behind our workplace behaviour. - Harper's Bazaar


This powerful, sensitive and timely book reveals what really happens within and between people at work. The emotional life of individuals and teams is often underestimated, but Gabriella Braun's insightful understanding demonstrates that we do indeed bring 'all that we are' to work. She shows that taking human nature seriously, including unconscious elements, makes all the difference to the health of our organisations and our lives at work. I wholeheartedly recommend this book. - Mike Brearley, former captain of England Cricket and President of the British Psychoanalytical Society.

A delight. Refreshing and inspiring, healing even. I love how Gabriella portrays systems psychodynamic ideas put to work, with little jargon and a lot of humanity. Unlike many books in the field, ALL THAT WE ARE shows the work rather than talk about it, with a balance of depth and immediacy ... I will be recommending it to our community of consultants and coaches at INSEAD. - Gianpiero Petriglieri, Associate Professor of Organisational Behaviour, INSEAD.

In All That We Are, Gabriella Braun weaves together a highly thoughtful, deeply sensitive and compelling account about the underlying motivations behind people's behaviour at work. Through case studies and her own personal stories she brings to light the struggles, confusions and conflicts embedded in organisations, but throughout she brings her deep humanity, insight and kindness. Beautifully written, it tells us what it means to be human at work. - Naomi Shragai, author of The Man Who Mistook His Job For His Life

About the Author(s)
Gabriella Braun is the Director of Working Well, a consultancy firm specializing in helping leaders and teams use in-depth understanding of their dynamics and behaviour to bring about meaningful and sustainable change in their working lives. She has worked with hundreds of clients including the British Library, RADA, TATE, Tavistock and Portman NHS Trust, University of Cambridge and Queen Mary, University of London. She has had a full psychoanalysis and holds a masters degree in Consulting to Organisations using a psychoanalytic and systemic approach from the Tavistock Clinic. She was a Principal Consultant in the Tavistock Consultancy Service.
You may also like