Against Understanding Volume 1: Commentary and Critique in a Lacanian Key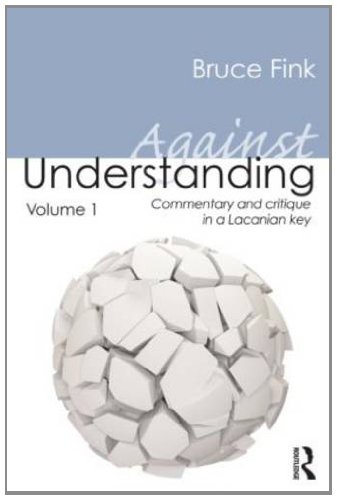 Book Details
Publisher : Routledge
Published : 2013
Cover : Paperback
Pages : 296
Category :
Lacanian Psychoanalysis
Catalogue No : 34880
ISBN 13 : 9780415635431
ISBN 10 : 9780415635
Also by Bruce Fink
Against Understanding, Volume 1, explores how the process of understanding (which can be seen to be part and parcel of the Lacanian dimension of the imaginary) reduces the unfamiliar to the familiar, transforms the radically other into the same, and renders practitioners deaf to what is actually being said in the analytic setting. Running counter to the received view in virtually all of contemporary psychotherapy and psychoanalysis, Bruce Fink argues that the current obsession with understanding - on the patient's part as well as on the clinician's - is excessive insofar as the most essential aim of psychoanalytic treatment is change.
Using numerous case studies and clinical vignettes, Fink illustrates that the ability of clinicians to detect the unconscious through slips of the tongue, slurred speech, mixed metaphors, and other instances of "misspeaking" is compromised by an emphasis on understanding the why and wherefore of patients' symptoms and behavior patterns. He shows that the dogged search for conscious knowledge about those symptoms and patterns, by patients and practitioners alike, often thwart rather than foster change, which requires ongoing access to the unconscious and extensive work with it.
In this first part of a two-volume collection of papers, many of which have never before appeared in print, Bruce Fink provides ample evidence of the curative powers of speech that operate without the need for any sort of explicit, articulated knowledge. Against Understanding, Volume 1 brings Lacanian theory alive in a way that is unique, demonstrating the therapeutic force of a technique that relies far more on the virtues of speech in the analytic setting than on a conscious realization about anything whatsoever on patients' parts. This volume will be of interest to psychoanalysts, psychotherapists, psychiatrists, psychologists, social workers, and counselors.
About the Author(s)
Bruce Fink is a practising Lacanian psychoanalyst and analytic supervisor who trained in France with the psychoanalytic institute that Jacques Lacan created shortly before his death, the École de la Cause freudienne in Paris. He has translated several of Lacan's works into English, including Écrits: The First Complete Edition and Seminar XX: Encore, and is the author of numerous books on Lacan, including The Lacanian Subject, A Clinical Introduction to Lacanian Psychoanalysis, Lacan to the Letter, Fundamentals of Psychoanalytic Technique, and most recently Against Understanding.
You may also like