Advanced Brief Strategic Therapy for Young People with Anorexia Nervosa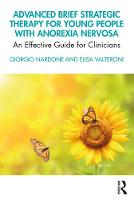 Book Details
Publisher : Routledge
Published : May 2020
Cover : Paperback
Category :
Eating Disorders
Category 2 :
Brief Psychotherapy
Catalogue No : 95107
ISBN 13 : 9780367467883
ISBN 10 : 9780367467
Also by Giorgio Nardone
This important new book details a strategic and systemic model for short-term therapy with adolescent sufferers of anorexia nervosa, a psychopathology that seduces patients into starvation as doctors and family look on with increasing desperation. Supported by the successful treatment of hundreds of cases over the past 30 years, the book is the culmination of a long-term intervention programme developed at the Strategic Therapy Centre of Arezzo, Italy.
It begins by outlining the range of different eating disorders, before identifying the specific characteristics that adolescents with anorexia present. The variations of the pathology are then discussed. Not all patients present with the same symptoms; some sufferers over-exercise while others binge eat or self-harm. Substance abuse is also common, either with diuretics or chemicals; others self-induce vomiting. The therapeutic strategy will, of course, differ for each patient. Accessibly written throughout, the book concludes with two cases studies - complete with full transcripts - which illustrate the therapeutic process that allowed the patient to change their patterns of thinking, and the accompanying behaviours.
An insightful and invaluable work on this vital topic, the book will be essential reading for any professional working with adolescents presenting with anorexia, as well as the families of sufferers.
About the Author(s)
Giorgio Nardone is director of Centro di Terapia Strategica (Strategic Therapy Center) and of the Post Graduate School of Brief Strategic Therapy Center in Arezzo, Italy. He is also professor of Brief Psychotherapy at the Post Graduate School of Clinical Psychology, University of Siena, Italy. He has published numerous articles and several books translated into many foreign languages. He is renowed as one of the most creative therapists and authors in the field of Brief Strategic Therapy and Strategic Problem Solving. his systematic and effective models for treating phobic, obsessive disorders and eating disorders are followed by many psychotherapists all around the world.
You may also like