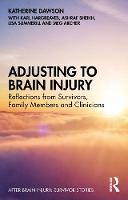 Book Details
Publisher : Routledge
Published : December 2020
Cover : Paperback
Pages : 190
Category :
Neuroscience
Catalogue No : 95404
ISBN 13 : 9780367629298
ISBN 10 : 9780367629
This important book in the After Brain Injury: Survivor Stories Series tells the story of four people who suffered acquired brain injuries: Karl Hargreaves and Ashraf Sheikh as a result of road traffic accidents, Lisa Summerill because of a stroke and Meg Archer as a result of meningitis.
Each person tells their story in their own words, describing what happened to them, how they dealt with it and how they experienced the recovery process. The cases represent very different types of people and severity of injury but are alike in providing raw accounts of the challenges faced whilst also highlighting their resilience and determination to carve out new lives. Alongside these inspirational stories are contributions by friends and family, as well as several members of the interdisciplinary rehabilitation team to give a broader view of the whole process of recovery. By combining expert commentary with real life experiences, this book points towards sources of support, normalises the experience and provides a context for understanding the challenges and successes in each case.
This book provides support, understanding and hope for patients who have suffered a brain injury. It is valuable reading for any professional involved in neurorehabilitation and students of clinical neuropsychology.
About the Author(s)
Dr Katherine Dawson is a clinical neuropsychologist and treats patients in various rehabilitation settings with a range of neurological conditions, including traumatic brain injury, stroke, spinal cord injury and brain infections. Katherine has interest in cognitive rehabilitation and works with individuals and family to manage emotional and behavioural changes following acquired brain injury. Katherine is currently involved in research with the NHS regarding telerehabilitation and acquired brain injury.
You may also like