Act and Image: The Emergence of Symbolic Imagination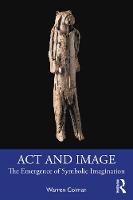 Book Details
Publisher : Routledge
Published : April 2021
Cover : Paperback
Pages : 330
Category :
Jung and Analytical Psychology
Catalogue No : 95758
ISBN 13 : 9780367862688
ISBN 10 : 0367862689
How did humans develop the capacity for symbolic imagination?
In this ground-breaking book, Warren Colman provides a reformulation of archetypal symbols as emergent from humans' embodied and affective engagement with their social and material environment. Beginning with the oldest known figurative image in the world, the 40,000-year-old Lion Man of Hohlenstein-Stadel in Germany, he traces the emergence of symbolic imagination through the origins of language, the growth of human sociality and co-operation, and the creative use of material objects, from the earliest stone tools through the cave paintings and figures of Upper Paleolithic Europe and beyond. This leads to a consideration of how the imaginal world of the spirit may have come into being, not as separate from the material world but through active participation within a world alive with meaning.
About the Author(s)
Warren Colman is a training and supervising analyst at the Society of Analytical Psychology in London and Consultant Editor of the Journal of Analytical Psychology. He teaches, lectures and supervises internationally and has published many articles on the theory and practice of couple psychotherapy, psychoanalysis, and analytical psychology.
You may also like