A Woman's Unconscious Use of Her Body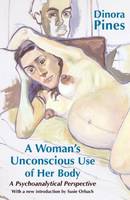 Book Details
Publisher : Routledge
Published : January 2010
Cover : Paperback
Pages : 216
Category :
Psychoanalysis
Catalogue No : 29420
ISBN 13 : 9780415558075
ISBN 10 : 0415558077
Drawing on Dinora Pines' lifetime of clinical experience this classic book provides a psychoanalytic understanding of womens relationships with their bodies, focusing on key moments in women's lives.
With chapters organised to follow the female life-cycle, topics covered include: the turbulence of adolescence; pregnancy and childbirth; infertility and abortion; menopause and old age; the traumatic effects of surviving the Holocaust.
With a foreword from Susie Orbach, this book will be of interest to mental health professionals including counsellors, psychotherapists and psychoanalysts.
Reviews and Endorsements
'Dinora Pines' collection of papers republished now remains as refreshing, moving and profound as when they first came out. [.] Her dedication to understand the dilemmas of the women who sought therapy with her, led her to extend the conventions of both psychoanalytic understandings and practice in deeply sensitive and useful ways.[.]Rereading this book brings Dinora and her compassion and intelligence alive once again.'
- Susie Orbach, From the Introduction

Table of Contents
Orbach, Foreword. Introduction. Skin Communication: Early Skin Disorders and Their Effect on Transference and Countertransference. The Psychoanalytic Dialogue: Transference and Countertransference. Adolescent Promiscuity: A Clinical Presentation. Pregnancy and Motherhood: Interaction between Fantasy and Reality. Adolescent Pregnancy and Motherhood. The Relevance of Early Psychic Development to Pregnancy and Abortion. Pregnancy, Miscarriage and Abortion. Emotional Aspects of Infertility and Its Remedies. The Menopause. Old Age. Working With Women Survivors of the Holocaust: Affective Experiences in Transference and Countertransference. The Impact of the Holocaust on the Second Generation.

You may also like