A Spectrum of Solutions for Clients with Autism: Treatment for Adolescents and Adults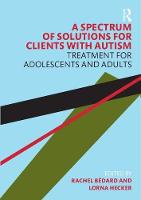 Book Details
Publisher : Routledge
Published : June 2020
Cover : Paperback
Pages : 364
Category :
Autism and Aspergers
Catalogue No : 95128
ISBN 13 : 9780367280499
ISBN 10 : 9780367280
Also by Lorna Hecker
This book is a comprehensive resource to guide work with individuals on the autism spectrum. It reflects the true range of needs presented by individuals with autism, pulling together the most salient aspects of treatment with invaluable information from several disciplines synthesized to guide your work.
Divided into topical sections with chapters from three field experts in each, this book features contributions from therapists, educators, and medical doctors, as well as financial planners, health advocates, and innovators. The diverse disciplines and backgrounds of each author lend a different voice and perspective to each chapter, reflecting the continuum of care necessary when working with clientele on the autism spectrum, and that, for clients on the spectrum, one solution does not fit all.
For use by psychotherapists, counselors, applied behavioral analysts, occupational therapists, social workers, teachers, and more, this text presents readers with expertise from various contributing disciplines to give them a treatment resource that can inform and guide their daily work with clients on the autism spectrum.
Reviews and Endorsements
Our understanding of the autistic experience is evolving at breakneck speed, yielding more effective and respectful approaches for supporting autistic individuals. Two great instigators of this acceleration are represented in full force in this important volume: our long overdue acceptance that all autistic children due indeed grow up to be autistic adults, and the emphatic voices of autistic individuals sharing their stories. In Diverse Interventions, Rachel and Lorna are to be congratulated for providing a platform for autistic and neurotypical experts to discuss some of the most crucial topics related to quality of life issues for autistic teens and adults. It is both the depth and breadth of this volume that makes it an essential contribution for service providers, families and autistic individuals. - Barry M. Prizant, PhD, CCC-SLP, adjunct professor Brown University and author of Uniquely Human: A Different Way of Seeing Autism, and The SCERTS Model.


The book is a triumph! Highly knowledgeable and experienced editors selected fifteen important topics for autistic adolescents and adults, from sleep and siblings to employment and relationships. Expert autistic and neurotypical clinicians, academics, and authors generously impart their hard won and sophisticated understanding of autism and how to help. I can highly recommend this book to any professionals working with teens and adults with autism, to their families, and to the adults themselves. - Michelle Garnett, MPsych(Clin), PhD, MAPS, FCCP, Clinical Psychologist, Minds & Hearts, A Private Clinic for Autism Spectrum Conditions.


Diverse Interventions for Adolescent and Adult Clients with Autism Spectrum Disorder is about changing perspectives - not people. Assembling a buffet of well-known voices and names yet unfamiliar, Rachel and Lorna deliver a scrumptious blend of academic prowess and keepin'-it-real readability. Diverse and divergent as real community should be, this compilation is both celebration and invitation for all of us on the human spectrum - to be different...together." - Jennifer Cook O'Toole, international speaker, self-advocate, author of the bestselling "Asperkids" series and award-winning memoir, "Autism in Heels"
About the Author(s)
Rachel Bedard, PhD, is in private practice in Fort Collins, CO. A long-standing advocate for those with autism, she primarily works with clients on the spectrum and has previously published two books about autism.
Lorna L. Hecker, PhD, LMFT, CHPS, is Professor in the Marriage and Family Therapy program at Purdue University Calumet in Hammond, Indiana, and is the Director of the Couple and Family Center there. She is the author or co-author of numerous books on Marriage and Family Therapy, some of which are staples in the field.
You may also like