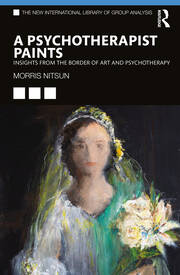 Also by Morris Nitsun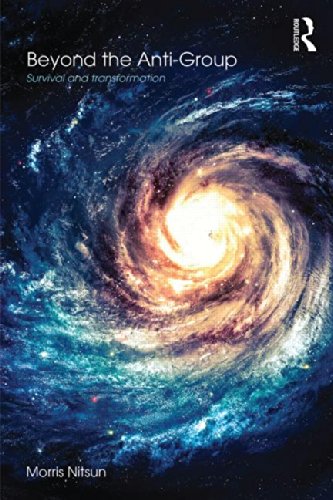 A Psychotherapist Paints is a unique account of an internationally known psychotherapist and group analyst's struggle to bring together his psychological experience and his interests and talent as an artist.
This book describes a body of painting that was responsive to a major existential challenge, the COVID-19 pandemic, but which also comes from deeply personal experience; the paintings are a mirror of life through the decades.
These paintings, fifty of which are included here in full colour, were mainly presented online to groups both small and large, who were invited to participate in a dialogue that became a vital part of the developing project. The value of this dialogue is reflected in the author's concept of the "artist's matrix", describing the social context in which an artist produces and presents their work. The paintings, together with the autobiographical narrative and the groups' generativity, combine to produce a moving testament to our times.
Intrinsic to A Psychotherapist Paints is a question about what makes us creative and how creativity transforms our lives. The result is a work of both artistic and psychological power that will inspire psychotherapists, art psychotherapists and artists themselves, and will point to exciting new possibilities in all these fields.
Reviews and Endorsements
'What an extraordinary, beautiful and inspiring book! Interlinking psychotherapy, group analysis, art and paintings in a totally unique way, this is, simply, a masterpiece. The author, Morris Nitsun, both a psychotherapist and artist, is present throughout, adding a personal narrative to the paintings and sharing a courageous life story. What is most impressive, however, is how much he lets the paintings speak for themselves, coming alive through the eyes of the observers. Their memories, associations, phantasies and projections, all in response to the paintings, are fascinating and moving, and form a continuing thread through the book. A further pleasure are the author's insights woven from these biographical threads and reminiscences, creating a text that is full of interest and resonance for others.

Nitsun has succeeded in creating something entirely new, a new format for applying group analysis and a new way of understanding paintings. No longer separate pieces of art, the paintings are given a social and cultural context. Their stories are both personal and universal. But the paintings are full of contrast. There is beauty but also the uncanny: the embrace but also loneliness; colour and light but also dark and suffering. This book will touch many readers and I recommend it very highly and widely.' - Professor Elisabeth Rohr, PhD., Institute of Group Analysis, Heidelberg, formerly Professor of Intercultural Education at Phillips University, Marburg, Germany.

'This is a fabulous book, a tour-de-force. Through the lens of his wonderful paintings, Morris Nitsun takes us on his journey from South Africa to the UK and from artist to therapist. He moves effortlessly from the consulting room to his artist's studio and through a powerful narrative draws us, openly and intimately, into his life. The book is rich in psychological theory, deeply personal reflections and artistic prowess. It is unique. As with his previous books, this will become a classic.' - Professor Dame Clare Gerada, President of the Royal College of General Practitioners, Director of Practitioner Health Service, UK.

'A Psychotherapist Paints is a visual and conceptual presentation of stunning beauty. Being the artist that he is, Nitsun beckons the reader to join a compelling journey of personal and social discovery, weaving together strands of autobiography, analytic acumen and pure talent. This highly original book is not only a major contribution to psychotherapy: it illuminates the world of the arts and suggests exciting possibilities for cross-fertilization.' - Richard M Billow, Clinical Professor and former Director of the Group Program at Adelphi University, USA and author of Richard M Billow's Selected Papers on Psychoanalysis and Group Process

'Congratulations on a wonderful book. Morris Nitsun gives his readers a rare gift: the reproduction of fifty of his paintings (the paintings themselves are worth the price of the book), as well as a deep appreciation of the obstacles, inner and outer, he had to overcome to achieve the artistic freedom and devotion to truth that are so evident in this book. In his evocative presentations of his paintings, he touches on poignant themes: childhood identity, loss and trauma, oppression and shame, and more. Offering a vivid portrait of himself as a psychotherapist and artist, he does not flinch from sharing the pain of self-doubt and the problems of ageing and loneliness. He writes with courage and clarity. Painting and writing through the pandemic years, his capacity to integrate beauty with the dark side, to face fear, to find hope in despair, and to remain resolutely creative throughout, shines through this book and offers inspiration to many others.' - Jerome S. Gans, MD, Distinguished Fellow, American Group Psychotherapy Association, Distinguished Fellow, American Psychiatric Association. Former Associate Professor of Psychiatry, Harvard Medical School, USA. Author of Addressing, Challenging Moments in Psychotherapy.

'In this unique and compelling book, Morris Nitsun treats us to a beautiful portrait of the mind of both the artist and the psychologist. An esteemed group analyst and a talented painter, Nitsun reveals the rich complexities of the human mind in a generous fashion, helping us to appreciate even more fully the ways in which each of us – whether clinicians or patients – can aspire to lead richer and more integrated lives.' - Professor Brett Kahr, Senior Fellow, Tavistock Institute of Medical Psychology, and Honorary Director of Research, Freud Museum, London, UK.

'This is a unique book. Weaving together twin passions - painting and psychotherapy – Nitsun's vivid artwork and lucid writing invite the reader, like a late-comer to his online exhibitions, to be both witness and participant in the "artist's matrix". Through this matrix we comprehend what is both an artistic and psychological journey; a journey where "The Deserted City'' (a "dark" exhibition prompted by Covid's lockdown) is gradually re-animated: with nature's bounty and resilience, with dancers, with the spirit of a woman's courage, with the search for transcendence: all testaments to what Winnicott calls "creative living". Movingly, this journey emerges as rooted in Morris Nitsun's relationship with his own mother, a "place" of absence as well as love. Inspiringly, the journey of art and reflection demonstrates the profound and purposeful engagement we must all make, especially in later years, if we are to choose integrity over despair.' - Professor Nick Barwick, Group Analyst and Head of Student Counselling, Guildhall School of Music & Drama.

'A magnificent book, inspiring and moving. It is not just to be read: it is to be experienced. Through the paintings and the commentary, the author stimulates the senses. You are entranced by the dolls, shudder at the sight of the deserted cities, smell the earth in fragile nature, and dance with the dancers. As in art therapy, Nitsun creates a safe but transformational space in which readers can project themselves, find a mirror in the images and find themselves in the process. The language is intimate and lyrical. It prompted an unforgettable personal journey. In line with his own concept, the author illustrates how art can deepen "the group as an object of desire". A must read!!' - Marcia Honig, PsyD, group analyst, art therapist, Chair of the master's degree in Art Therapy at Seminar HaKibutzim College, Chair of the Transcultural Section of the International Group Psychotherapy Association, International group facilitator.

'In this unique combination of social experiment and personal history, Morris Nitsun takes the reader on a journey, traversing the territory between art, art therapy and group psychotherapy. Personal biography is woven with the author's paintings to form a rich tapestry. Nitsun combines his deep knowledge of group analysis and a lifetime of making art to create an innovative approach to working with groups. At conferences, exhibitions and online during Covid lockdown, he offered his paintings as catalysts, courageously exposing his process to the gaze and associations of audience members. Self-analysis, art and group process combine in this engaging personal memoir. A compelling read for art psychotherapists and analysts and all who are interested in the links between art and psychotherapy.' - Professor Joy Schaverien, PhD, Jungian analyst, art psychotherapist and author of Boarding School Syndrome: The Psychological Trauma of the 'Privileged' Child and The Revealing Image: Analytical Art Psychotherapy in Theory and Practice

'This is the story of a man who wanted to be an artist and a psychotherapist, and this book is his answer to the question 'Can you be both?' Morris Nitsun is that man; someone who has excelled as both an artist and a group analyst. In this book, Nitsun uses his paintings, and accounts of how groups of people have responded to those paintings, to explore how art and psychotherapy can bring something into being that wasn't there before. Both art and psychotherapy give us a frame in which we can think new thoughts and maybe change our minds in so doing. This process of change is not always comfortable or easy, and Nitsun never avoids that challenge, whether in his work on the Anti-Group, the disturbing image, or the associated painful thought. This is a rich and complex work, wonderfully illustrated with Nitsun's work; and that alone makes this book an essential purchase.' - Gwen Adshead, consultant forensic psychiatrist and psychotherapist Broadmoor Hospital and HMP Bronzefield; co-author with Eileen Horne, The Devil You Know

'This book is truly exceptional in every sense. It is the remarkable distillation of the wealth of insights from a long and illustrious career of a psychotherapist and artist. Dr Nitsun's highly accomplished paintings interweave with his therapeutic sensitivity to construct, in respectfully understated tones, a most moving tapestry of the human condition that will touch deeply not only therapists and artists but also all those who can open their heart to the wondrous complexities of suffering and fortitude. The masterful interplay between his visual images and perceptive narrative, his personal journey, group experiences and wider collective, usher the reader into painful and exhilarating caverns of the psyche.' - Professor Renos K Papadopoulos, PhD, University of Essex. Clinical psychologist, Jungian psychoanalyst, family therapist and author of Involuntary Dislocation. Home, Trauma, Resilience and Adversity-Activated Development

'It is a great pleasure to read this book, it is written with such wisdom, humanity and clarity. It is absorbing to read and has helped me understand the influences of Morris's life on his work. He has a gift for communicating personally and universally, which gives us, his readers, permission to allow honesty and purity in the expression of our own life stories.

I attended one of Morris's online presentations and loved his work. This led to an ongoing creative collaboration between Morris, his paintings and my cross-art dance/theatre group, SpiralArts. We have had two exploratory sessions inspired by The Dancers, Deserted City and Fragile Nature. The images in the paintings are evocative and triggered an outpouring of spontaneous improvisation in dance, music and voice. Inanimate, timeless paintings became the trigger for living expression, seeming to create an extra dimension through mutual creative communication.

This book illuminates the creative resonance and underlying connections between art forms that can cross boundaries and create a new dimension for the expression of life experience in the present time.' - Bryony Williams, FHEA, Dance/movement teacher, choreographer and co-founder and director of SpiralArts Dance Theatre Company.

'This is a very special and creative book. Whereas art and psychotherapy both release unconscious imagery, Morris Nitsun integrates these two processes in his highly original book. He creates a transitional space, which he calls 'the artist's matrix', into which the reader is invited to share his paintings and reflections. Joining this matrix, I became captivated by the images, words and ideas. The way Nitsun merges his two callings, as a well-known group analyst and an experienced artist, into one narrative is powerful and evocative. Therapists, artists and anyone who is open to new learning and experience, will be fascinated by this book.' - Haim Weinberg, PhD, psychologist and group analyst, past President of the North California Society of Group Psychotherapy and the Israeli Association of Group Psychotherapy. Author and co-editor of several volumes on the social unconscious and the spread of online groups.

'I am amazed by the beauty and wisdom of this book. Morris Nitsun has written a compelling work, a testimony to the depths of the creative spirit. The book is richly laden with Nitsun's clinical experience and his stunning, breath-taking paintings. It emphasises how his life journey as a psychotherapist helps to understand the painter in him, and vice versa. Processes that go into making art can shed light on psychotherapy. Nitsun uses his deep knowledge and clinical sensitivity as a group analyst in order to enrich his - and our - insight. The clinician and the artist come together in his exploration of what he calls "the artist's matrix". He highlights dimensions of the creative mind that add to our appreciation, no less, of being alive. The clarity of Nitsun's writing and our delight in the connections between his paintings and his personal and professional odyssey make this an extraordinary book: a sophisticated gift to clinicians at all levels, artists and everybody who reads it.' - Gila Ofer, PhD, psychologist, psychoanalyst and group analyst. Co-founder and past President of Tel-Aviv Institute of Contemporary Psychoanalysis, founding member of the Israeli Institute of Group Analysis. Editor of A Bridge over Troubled Water: Conflict and Reconciliation in Groups and Society

'Nitsun has exceptional powers of depiction in his art, in his therapeutic and self narrative and in his exploration of the mysterious spaces in between. The result is an absolutely extraordinary book that speaks with deep compassion to distress and pain and celebrates the spirit liberated by creativity and imagination but brings fresh psychoanalytic understanding to the creative essence of therapy. A profound and wonderful achievement.' - Professor Peter Fonagy, OBE, FMedSci FBA FAcSS, Head of the Division of Psychology and Language Sciences; Director, UCLPartners Mental Health and Behaviour Change Programme; Chief Executive, Anna Freud National Centre for Children & Families; National Clinical Advisor on Children's Mental Health, NHS England; Professor of Contemporary Psychoanalysis and Developmental Science, UCL, UK.

'Morris Nitsun's latest book takes us on a personal journey that chronicles the author's unique ability to nurture a symbiotic relationship between psychotherapy and painting during Covid times. The extraordinary artworks that evolved from this meeting of cultures offer the reader a vivid insight into a wider life of both struggle and fulfilment.' - Tim Benson, President, Royal Institute of Oil Painters, fine artist and tutor, UK.
About the Author(s)
Morris Nitsun is a consultant psychologist for the Camden and Islington NHS Foundation Trust, a psychotherapist at the Fitzrovia Group Analytic Practice, a training analyst at the Institute of Group Analysis and the convenor of the Diploma in Innovative Group Interventions at the Anna Freud Clinic. His books include The Group as an Object of Desire and Beyond the Anti-Group: Survival and transformation.
You may also like