A Playworker's Guide to Understanding Children's Behaviour: Working with the 8-12 Age Group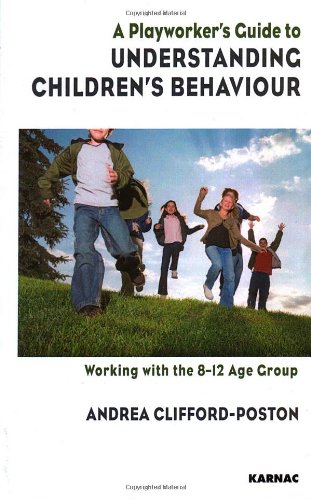 Also by Andrea Clifford-Poston
How do I manage an aggressive child positively when I have twenty other children who need my attention? How can I develop a good relationship with a child I seem to dislike? How do I maintain a positive working relationship with the parents of a disturbed and disturbing child?
Written in a jargon-free, readable style, with many real life examples, this book is a must-have resource for playworkers seeking to enhance their skills as a whole. It highlights how the way we think about children's behaviour colours the way we react to it. It offers playworkers a different way of understanding many ordinary childhood behaviours such as lying, stealing and bullying, and gives practical advice not only on management but on how practitioners can identify, trust and develop their own skills.
Reviews and Endorsements
'This book is a wonderful compendium of practical wisdom about working with children in a particular setting. But like all the most interesting writing about working with children it will engage anyone who wants to know something new just about the experience of being, and being with, children. Playworkers are likely to become more and more significant in children's lives; and A Playworker's Guide to Understanding Children's Behaviour at last gives them their due.'
- Adam Phillips, Psychoanalyst and Writer

'This much needed book will be invaluable in helping playworkers respond positively to the children in their clubs. The case studies bring the book to life and will prove a practical resource when confronted with the myriad of emotions and behaviours that children and young people display.'
- Annette Rawstrone, Assistant Editor, Nursery World

'A valuable tool covering a vast array of case studies to help playworkers understand the complexities of childhood psychology and provide the best possible care in a comfortable and secure environment.'
- Amanda Argent, Chief Executive Officer, Schoolfriend etc.

'The clever use of practical examples to highlight causes and effects of children's behaviour makes this book highly accessible to front-line practitioners. Specific information about this age group is scarce and I particularly liked the way in which difficult issues are dealt with, in context of the 8-12 year olds' experience and fears, and through discussions by playworkers as they address the situations. Acknowledging behaviour as a language, the author introduces a refreshing honesty about interactions in out-of-school clubs, reflecting the excitement, struggles and changing relationships that are the stuff of life for playworkers. Essential reading for everyone working with middle years children!'
- Jackie Nunns, CEO, Kids' City
About the Author(s)
Andrea Clifford-Poston, M.Ed. is a UKCP registered Educational Psychotherapist and has over 30 years experience of working with children, parents and professionals in schools, clinics, hospitals and the home. Andrea trained initially as a primary school teacher and taught in various London schools. For 16 years she was Teacher in Charge at the Child Development Centre, Charing Cross Hospital, and for many years a Visiting Lecturer to the Music Therapy training course at the Roehampton Institute. She has contributed articles to a number of leading childcare magazines including 'Nursery World' and 'The Times Parent Forum' as well as having written papers for teachers and professionals. For thirteen years she has been in private practice as a Child and Family Mental Health Specialist. She is consultant to and runs training courses for professionals working with children and is member of the Guildford Centre for Psychotherapy.
You may also like