A People's History of Psychoanalysis: From Freud to Liberation Psychology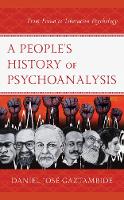 Book Details
Publisher : Lexington Books
Published : December 2019
Cover : Hardback
Pages : 270
Category :
Psychoanalysis
Catalogue No : 95039
ISBN 13 : 9781498565745
ISBN 10 : 9781498565
Is psychoanalysis too "White" and upper class to be relevant to social and racial justice? Are its ideas and practices too "alien" for people of color? Can it shed light on why systems of oppression are so stable, and how oppression becomes internalized?
In A People's History of Psychoanalysis, the author reviews the oft-forgotten history of social justice in psychoanalysis, showing how Freud and the first generation of psychoanalysts developed a way of thinking about racial and economic inequality that informed later movements for Black and Latin American liberation. He traces a series of interpersonal and intellectual relationships between psychoanalysis and Black anti-Racist and post-colonial struggle culminating in the work of Frantz Fanon; Afro-Latinx and Latin American thinkers fighting anti-Blackness and capitalist exploitation which inspired Paulo Freire's theory of critical consciousness; and Spanish psychiatrists and psychologists resisting fascism and inequality from Spain to El Salvador, setting the foundation for Ignacio Martin-Baro's Liberation Psychology.
Throughout this intellectual genealogy from Freud to Liberation Psychology the author outlines a consistent psychoanalytically-informed theory of race, class and the internalization of oppression developed by analytic thinkers fighting against inequality across generations. Such theorizing proves indispensable in contemporary political activism, pedagogy, and clinical work.
You may also like