A Natural History of the Future: What the Laws of Biology Tell Us About the Destiny of the Human Species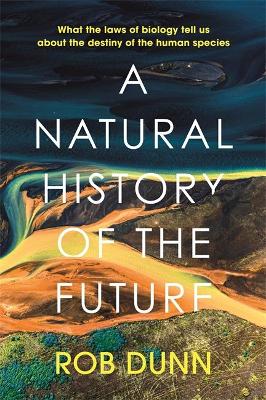 Book Details
Publisher : John Murray Press
Published : January 2022
Cover : Hardback
Pages : 320
Category :
Environmental Studies
Category 2 :
Climate Politics
Catalogue No : 96419
ISBN 13 : 9781399800129
ISBN 10 : 1399800124
Over the past century, our species has made unprecedented technological innovations with which we have sought to control nature. From river levees to enormous one-crop fields, we continue to try to reshape nature for our purposes - so much so it seems we may be in danger of destroying it. In A Natural History of the Future, biologist Rob Dunn argues that nothing could be further from the truth: rather than asking whether nature will survive us, better to ask whether we will survive nature.
Despite our best - or worst - efforts to control the biological world, life has its own rules, and no amount of human tampering can rewrite them. Elucidating several fundamental laws of ecology, evolution, and biogeography, Dunn shows why life cannot be stopped. We sequester our crops on monocultured fields, only to find new life emerging to attack them. We dump toxic waste only to find microbes to colonize it. And even in the London Tube, we have seen a new species of mosquito emerge to take advantage of an apparently inhospitable habitat. Life will not be repressed by our best-laid plans. Instead, Dunn shows us a vision of the biological future and the challenges the next generations could face. A Natural History of the Future sets a new standard for understanding the diversity of life and our future as a species.
Reviews and Endorsements
"Rob Dunn sketches an arresting vision of this relentless natural world . . . If we want to know what's coming, then, we would be well advised to familiarize ourselves with them, Dunn argues. To that end, his book functions as a helpful crash course in ecology and, as the title implies, an augur of sorts" - The New York Times Book Review

"[A] lucid discussion . . . Dunn's absorbing analysis advocates making the most of the few certainties we have" - Scientific American

"Even if we could halt fossil fuel emissions tomorrow, we would still need to make some big changes. Evolutionary biologist Rob Dunn's timely new book . . . is a guide to this complex problem and offers palatable solutions . . . a clear and important read" - Mary Ellen Hannibal

"A stimulating exploration . . . The author avoids the usual implausible how-to-fix-it conclusion . . . Instead, he offers a book that is less doomsday prophecy and more excellent primer on ecology and evolution. An imaginative, sensible education for those concerned with the fate of the Earth" - Kirkus Reviews

"A fascinating, shocking, and inspiring guide to the future by one of the most creative and eloquent biologists of our time. Dunn's book is packed full of insight from the latest scientific discoveries about the wonders and troubles of the living Earth" - David George Haskell, author of The Forest Unseen

"A timely, thought-provoking analysis, delivered in the affable prose that has become Dunn's hallmark" - Thor Hanson, author of Hurricane Lizards and Plastic Squid

"Speciations in weird urban habitats, viruses chasing hosts around the globe, and the greatest challenge life on Earth has faced for two million years: this is the fascinating and sobering ecology of the Anthropocene" - Rebecca Wragg Sykes, author of Kindred

"Five Stars . . . it makes the reader think, and there are some truly fascinating ideas about the way species interact with their environment . . . A useful and timely book" - Brian Clegg, Popular Science

"Rob Dunn steers our attention toward the biota under our noses as part of a broader project to explicate the circumstances that prompt new life forms, and adaptive behaviors, to appear . . . The biodiversity and versatility on display in the animal kingdom of which we are part have lots to teach us. To remain at home in the world, we too will need to change" - The Atlantic

"[Dunn argues] people can help mitigate the effects of climate change by valuing "the rest of life" outside humanity, as well as heeding the lessons that other life has to teach. Thoughtful and accessible, this deserves a wide readership" - Publishers Weekly

"In forecasting future ecology, Dunn enlists biological laws to predict what likely lies ahead for life on our planet, including us . . . Dunn engagingly explains biogeography, inventive intelligence, and speedy evolutionary reaction to changing conditions" - Tony Miksanek, Booklist
About the Author(s)
Rob Dunn is an ecologist and evolutionary biologist, focusing on the biodiversity of humans. He is a professor in the Department of Applied Ecology at North Carolina State University and in the Center for Evolutionary Hologenomics at the University of Copenhagen. The author of seven books including Never Home Alone, he also writes for National Geographic, Natural History, Scientific American, BBC Wildlife, and Seed magazine. He lives in Raleigh, North Carolina.


You may also like