A Matter of Death and Life: Love, Loss and What Matters in the End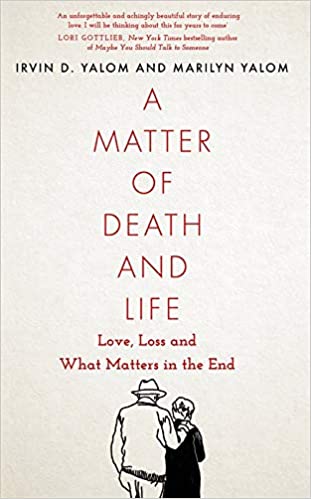 Book Details
Publisher : Piatkus Books
Published : March 2022
Cover : Paperback
Category :
Grief and Bereavement
Category 2 :
Memoir
Catalogue No : 96159
ISBN 13 : 9780349428550
ISBN 10 : 9780349428
Also by Irvin D. Yalom
Also by Marilyn Yalom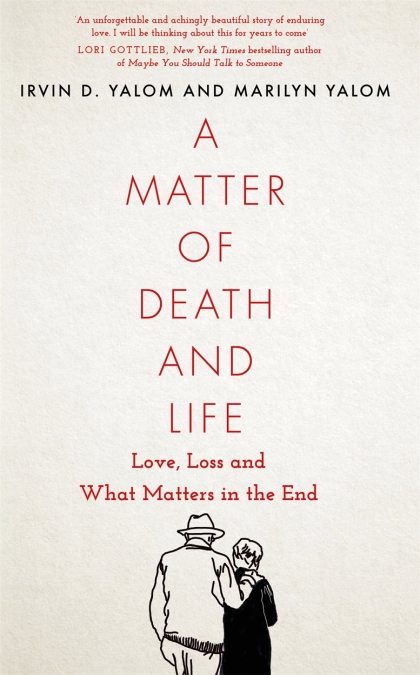 Internationally renowned psychiatrist and author Irvin Yalom has devoted his career to counselling those suffering from anxiety and grief. But never had he faced the need to counsel himself until his wife, esteemed feminist author Marilyn Yalom, was diagnosed with cancer. In A Matter of Death and Life, Marilyn and Irvin share how they took on profound new struggles: Marilyn to die a good death, Irvin to live on without her.
In alternating accounts of their last months together and Irvin's first months alone, they offer us a rare window into coping with death and the loss of one's beloved. The Yaloms had rare blessings - a loving family, a beautiful home, a large circle of friends, avid readers around the world, and a long, fulfilling marriage - but they faced death as we all do. With the candour and wisdom of those who have thought deeply and loved well, they investigate universal questions of intimacy, love, and grief.
Informed by two lifetimes of experience, A Matter of Death and Life offers poignant insights and solace to all those seeking to fight despair in the face of death, so that they can live meaningfully.
Reviews and Endorsements
Marilyn and Irvin write so luminously I feel I have lived that period of time alongside them ... I was deeply touched by Irvin's humility in acknowledging that we are simply unprepared for the great encounter with death, or for the loss of a soul-mate, no matter how closely we observe these stories as professionals. This book is illuminating and vivid, a beautiful examination of the consolation of a life well-lived, and a beacon of hope to all of us who will be bereaved. And of course, it is an exposition of how we who are mortal learn to live with that very truth about ourselves - Kathryn Mannix, Sunday Times bestselling author of With the End in Mind

A Matter of Death and Life is wise, beautiful, heartbreaking, raw - a paean to enduring love and what it means - The Times

For over half a century, the eminent psychiatrist Irvin Yalom has dazzled the world with his stories of the human psyche packed with wisdom, insight, and humor. Now, with stunning candor and courage, he shares with us the most difficult experience of his life: the loss of his wife and steadfast companion since adolescence. Partners to the end, including in the co-writing of this book, they share an indelible portrait of bereavement - the terror, pain, denial, and reluctant acceptance. But what we are left with is much more than a profound story of enduring loss - it's an unforgettable and achingly beautiful story of enduring love. I will be thinking about this for years to come - Lori Gottlieb, New York Times bestselling author of Maybe You Should Talk to Someone: A therapist, her therapist, and our lives revealed

This beautiful, poignant, and uplifting memoir is a love story, a tale of two incredibly accomplished lives that were lived almost as one, the sum turning out to be so much greater than its parts. It will inspire you and perhaps move you to look differently at your life - it did that for me - Abraham Verghese, author of Cutting for Stone

The Yaloms are not just honest, but astonishingly generous with their readers. This book takes its immediate place in the canon of great end-of-life memoirs - Caitlin Doughty, founder of The Order of the Good Death.

A Matter of Death and Life is both a sweet reminiscence and a path to discovery. Two eminent professors, authors, and lifelong partners grapple with aging, fragility, and death. In the process of honestly meeting the precariousness of life, they come to a deeper appreciation of its preciousness - Frank Ostaseski, author of The Five Invitations: Discovering What Death Can Teach Us About Living Fully

A Matter of Death and Life is so much more than a book. It is an indefatigable love story. It is a text that traverses past and present. It is exquisite, candid, and vulnerable - absent the too-common defenses of artifice and pomposity - as it approaches the untenable pain of separation and unyielding yearning of loss. Every person would benefit from multiple readings of this intelligently relatable book, both to confront dying as we inch toward our own mortality and, perhaps more importantly, the grief when one so beloved precedes us in death. I am deeply enriched for having absorbed this intimate narrative, as I wipe the tears from my eyes. Irv and Marilyn's love story, ending in the tragedy of endings, is yours, mine, and all of ours - Dr. Joanne Cacciatore, author of Bearing the Unbearable: Love, Loss, and the Heartbreaking Path of Grief

This is a remarkable book - as remarkable as its authors, Irv Yalom, the master existential therapist and widely read author, and Marilyn Yalom, an accomplished scholar and writer. Summoning immense courage, the Yaloms co-write the story of their emotional and moral caregiving for each other. A Matter of Death and Life is the culmination of the Yaloms' career-long quests for wisdom in the art of living and dying. It is a book that transforms the reader - I couldn't put it down - Arthur Kleinman, author of The Soul of Care: The Moral Education of a Doctor
About the Author(s)
Irvin D. Yalom, M.D., is the author of The Schopenhauer Cure, Lying on the Couch, Every Day Gets a Little Closer, and Love's Executioner, as well as several classic textbooks on psychotherapy. His novel When Nietzsche Wept was a bestseller in Germany, Israel, Greece, Turkey, Argentina, and Brazil with millions of copies sold worldwide. Yalom is Professor Emeritus of Psychiatry at the Stanford University School of Medicine, and he divides his practice between Palo Alto, where he lives, and San Francisco, California.
Marilyn Yalom was a historian and author. She was a senior scholar at the Clayman Institute for Gender Research at Stanford University, and a professor of French. She served as the institute's director from 1984 to 1985. Her books included A History of the Breast, A History of the Wife, The American Resting Place, and How the French Invented Love. Yalom was decorated by the French government as an Officier des Palmes Academiques in 1991, and she received an Alumnae Achievement Award from Wellesley College in 2013. She died on 20 November 2019 from multiple myeloma, a form of cancer that affects the bone marrow.
You may also like