A Guide to Evaluation for Arts Therapists and Arts and Health Practitioners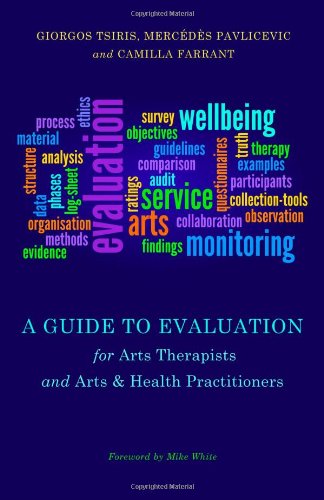 Also by Mercedes Pavlicevic

Also by Giorgos Tsiris
Evaluation has become a crucial tool in the development of arts and health and arts therapy professions. This guide provides foundational frameworks for designing, planning and implementing bespoke monitoring and evaluation protocols that are based on the authors' substantial experience of designing and realising evaluation projects, and running training workshops for practitioners.
Depending on their workplace, client group, and content, practitioners can draw from a range of suggestions for designing realistic timelines, ensuring organisational diplomacy, and managing what at times can be a delicate balance of truths, facts, and perceptions. This timely book will support Arts and Health and Arts Therapy professionals and teachers in their quest to include thorough monitoring and evaluation procedures in their practice.
About the Author(s)
Giorgos Tsiris trained as a music therapist at Nordoff Robbins (London, UK), where he is now conducting his doctoral research on spirituality and music therapy. He is research assistant at Nordoff Robbins and a music therapist at St Christopher's Hospice. He is the founding editor of the open access journal, Approaches: Music Therapy & Special Music Education, and coordinator of the Research Network of the British Association for Music Therapy.
Mercedes Pavlicevic completed the Nordoff Robbins London training in 1981, and her doctoral studies in Music Therapy Improvisation at the Department of Psychology with Colwyn Trevarthen in 1991. As a music therapist she has worked in a range of institutional and community settings, in Scotland, in the Lebanon and in South Africa. Mercedes co-instituted and was Director of the Master's Music Therapy programme at the University of Pretoria until 2006 - this was the first accredited training programme on the African Continent. She has authored, co-authored and edited numerous music therapy publications. She is currently Research Director at Nordoff Robbins Music Therapy, and Research Associate at SOAS Music Department, at the University of London.
More titles by Mercedes Pavlicevic
Camilla Farrant trained as a music therapist on the Master's degree programme at Nordoff Robbins, London, after reading Music at Christ's College, Cambridge University and studying the cello and piano at the Royal Academy of Music. She currently works as a Research Assistant within the Nordoff Robbins Research Department, works as a choral conductor and music therapist with children in mainstream primary schools in Enfield and sings professionally.
You may also like