A Beholder's Share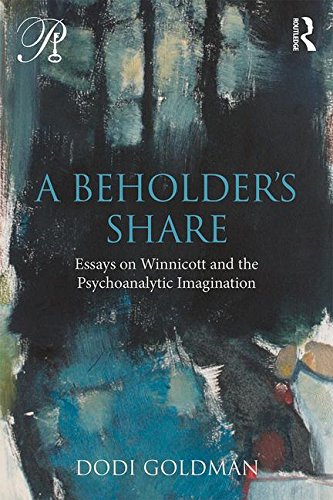 Book Details
Publisher : Routledge
Published : 2017
Cover : Paperback
Pages : 208
Category :
Psychoanalysis
Catalogue No : 40317
ISBN 13 : 9781138289369
ISBN 10 : 1138289361
A Beholder's Share is a comprehensive guide to Dodi Goldman's unique psychoanalytic sensibility. At heart, this book demonstrates how a sense of reality is evoked in the unpredictable space between imagination and adaptation. Though usually viewed as opposites, reality and imagination make uneasy but necessary bedfellows. The world calls forth something in each of us - a beholder's share - which in turn calls forth something in the world.
Part I shows how fantasy generates novelty by creating versions of what is already known, while imagination allows what seems familiar to be seen afresh. Practitioners are likely to be surprised by Goldman's unexpected take on common clinical encounters: clashes of belief, the search for generational dialogue, the awkward discomfort of feeling like a fake, the problem of how and when to end analysis, the strains of working with psychotic anxieties.
Part II, 'Winnicott's Living Legacy,' offers fresh consideration of Winnicott's preoccupation with difficulties inherent in contact with reality. These chapters illuminate Winnicott's personal struggle with an area of experience his own two analyses failed to touch, as well as the tangled relationship with Masud Khan, his recognition of dissociation as a queer kind of truth, and how Romantic poets shaped Winnicott's view of what is felt as real.
Bringing together Dodi Goldman's seminal and new writings, A Beholder's Share will appeal to psychoanalysts and psychoanalytic psychotherapists, as well as students and teachers of art and literary studies.
You may also like