A Beam of Intense Darkness: Wilfred Bion's Legacy to Psychoanalysis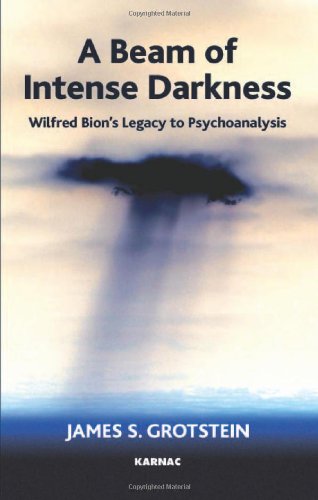 Book Details
Publisher : Routledge
Published : 2007
Cover : Paperback
Pages : 400
Category :
Psychoanalysis
Catalogue No : 25072
ISBN 13 : 9781855754485
ISBN 10 : 1855754487
Also by James S. Grotstein
Our Customers Average Rating
Read all reviews (2)





The author surveys Bion's publications and elaborates on his key contributions in depth while also critiquing them. The scope of this work is to synopsize, synthesize, and extend Bion's works in a reader-friendly manner. The book presents his legacy - his most important ideas for psychoanalysis. These ideas need to be known by the mental health profession at large. This work highlights and defines the broader and deeper implications of his works.
It presents his ideas faithfully and also uses his ideas as "launching pads" for the author's conjectures about where his ideas point. This includes such ideas as "the Language of Achievement", "reverie," "truth," "O," and "transformations"- in, of, and from it, but also " L," "H," and "K" linkages (to show how Bion rerouted Freud's instinctual drives to emotions), "container/contained, Bion's ideas on "dreaming," "becoming," "thoughts without a thinker," "the Grid," his erasure of the distinction between Freud's, "primary and secondary processes " and the "pleasure" and "reality principles," "reversible perspective," "shifting vertices," "binocular vision," "contact-barrier," the replacement of "consciousness" and "unconsciousness" with infinity and finiteness, Bion's use of models, his distinction between "mentalization" and "thinking," as well as many other items.
Reviews and Endorsements
'...this is a book that I had been waiting to have for a long time - a book that was in my 'memoirs of the future'. This book is a hologram of Bion's thought that can be deconstructed in its constituent parts and then reconstructed again and again. It is Grotstein's dream about Bion, but a dream that enriches his thought, transforms it and makes it more readily available.

It is a book that I will certainly use with my students in seminars on Bion's thought, and I will encourage others to do the same. It is a book, in my opinion, that all analysts, including those of a different orientation, should take most seriously. It is a
book that dares to disturb that universe of knowledge that any reader had before reading it. It is a book which is 'thought for thinking', but also reverie, as well as representing the closest we can get, for the time being at least, to the global 'O' of Bion's thought.'
- Antonino Ferro, International Journal of Psychoanalysis, (2008).
About the Author(s)
James S. Grotstein, M.D. was Professor of Psychiatry, U.C.L.A School of Medicine, and a training and supervising analyst at the Los Angeles Psychoanalytic Institute and at The Psychoanalytic Centre of California. He was a member of the editorial board of the International Journal of Psychoanalysis and was past North American Vice-President of the International Psychoanalytical Association. He published over 250 papers and was the author or editor/co-editor of numerous books.
Customer Reviews
Our customers have given this title an average rating of 5 out of 5 from 2 review(s), add your own review for this title.
Mikael Bergkvist on 13/05/2009 06:24:13





(5 out of 5)
A superb interpretation of Bion's work. Grotstein establishes himself as one of the most important voices in modern psychoanalysis. This is the future.
Jouko Reinikka, M.D. on 31/10/2007





(5 out of 5)
An excellent scholarship of Bion. Clearly enough, Grotstein if who another has read his Bion. Grotstein draws a vivid and inspiring, still reader-friendly picture of Bion. Necessary for all analysts to be read. Very interesting views on Bion being Grotstein's analyst (e.g.Bion´s interpretations)
You may also like