Judy Gammelgaard
Judy Gammelgaard is a training analyst, member of the Danish Psychoanalytic Society and of the International Psychoanalytical Association. She is Professor and head of the Centre of Psychoanalysis at the Department of Psychology, University of Copenhagen and lectures widely throughout Scandinavia.
Showing 1 to 2 of 2 items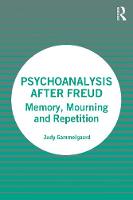 This book draws on a number of Freud's lesser-known works to explore psychoanalytic perspectives on memory, mourning and repetition.
It is remarkable that Freud in his speculations on the human... (more)

From its inception psychoanalysis has sought to effect a cure through the therapeutic relationship between analyst and analysand. Betweenity looks at what happens when the established framework of... (more)
Showing 1 to 2 of 2 items