W. R. Bion's Theories of Mind: A Contemporary Introduction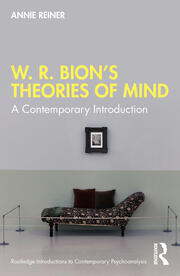 Book Details
Publisher : Routledge
Published : 2022
Cover : Paperback
Pages : 84
Category :
Psychoanalysis
Catalogue No : 96892
ISBN 13 : 9780367745684
ISBN 10 : 9780367745
Reviews and Endorsements
'Annie Reiner's excellent, thought-provoking book is one of the best expositions of Bion's ideas and clinical work. This clear, accessible and deep reflection on Bion's thinking and clinical practice, is based on first-hand, intimate knowledge absorbed through Reiner's acquaintance with Bion himself. Moreover, it is an impressive account of Reiner's own thinking, grounded in many years of clinical work and important theoretical developments. Her thoughts on the natural continuity between Bion's early and late work, the origins of the mind and of thinking, and the presence of the transcendental, spiritual dimension in human experience, are invaluable. Anyone interested in human experience, philosophy and psychoanalysis will surely find in this book much needed, touching and evocative food for thought.' - Joshua Durban, child and adult training and supervising psychoanalyst, The Israeli Psychoanalytic Society (IPA), The Sackler School of Medicine, The psychotherapy program, Tel-Aviv University, Israel.

'There are many books on Bion. This one is different: it captures what is revolutionary about Bion's thinking in a fresh and clear way. Reiner, who was a student of Bion in the 1970s, and is now one of the foremost Bion scholars, traces the origins of his thinking concerning the concept of O from its very beginnings in his work on the selected fact, through his work on the 'no-thing' and 'thoughts without a thinker', and finally to his most developed conception of O as it informs intuition, which is all that we can know. This is a beautifully written book that captures the imagination of the reader, inviting him or her to think with Reiner about the development of Bion's ideas.' - Thomas Ogden, M.D. San Francisco. Member and supervising analyst at the San Francisco Center for Psychoanalysis (SFCP).

'Dr. Reiner has written a remarkable book, describing essentials of the work of W.R. Bion with unusual clarity. Bion's ideas are explored in depth, and applied to her work with analysands, which is presented in detail, and relevant to the specific theories being discussed.' - Michael Paul, M.D. Los Angeles. Member and senior training analyst at the Psychoanalytic Center of California (PCC), and the New Center of Psychoanalysis (NCP).