Clinical Research in Psychoanalysis: Theoretical Basis and Experiences through Working Parties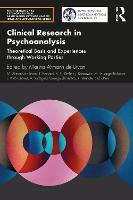 Book Details
Publisher : Routledge
Published : 2021
Cover : Paperback
Pages : 416
Category :
Psychoanalysis
Category 2 :
Research
Catalogue No : 95639
ISBN 13 : 9780367760380
ISBN 10 : 9780367760
Reviews and Endorsements
"This book brings together the sharpest minds in the psychoanalytic field of today and draws attention to an urgent question within psychoanalysis - how to improve standards of observation, conceptualization and communication of clinical material. The authors engage in in-depth discussions of the scientific status of psychoanalytic knowledge, moving from clinical inquiry to clinical research. A distinguishing feature of the book is the way it highlights how the establishment of various Clinical Working Parties has opened the analytic room and stimulated a productive dialogue between colleagues with different theoretical perspectives in which "arguments of authority" are replaced by a commitment to distinguish between observation and interpretation. This book is a unique contribution to the attempts to bridge the gap between clinicians and researchers, and to create a culture of scientific inquiry. It is of interest for a wide audience, university students, psychoanalytic candidates as well as teachers and practicing psychoanalysts." - Dr. Siri Erika Gullestad, PhD Psychoanalyst. Directed the Department of Psychology and the Clinic for Psychoanalytic Psychotherapy at the University of Oslo.

"It is absolutely fascinating what the systematic study of clinicians' thinking can teach us about patients and about the ways we can work with them most effectively. This book provides an excellent summary of the way in which conceptualisations and technique about patient groups and clinical situations can be refined and used to advance the science of clinical psychoanalysis.

The broad international perspectives will at the same time inform us about diversity of clinical approaches and, far more important, move towards generating a common language in what is now an unnecessarily fragmented field. This is a major contribution to a rapidly developing and crucial field in our discipline." - Prof. Peter Fonagy, Head of the Division of Psychology and Language Sciences at UCL; Chief Executive of the Anna Freud National Centre for Children and Families.

"For more than 100 years psychoanalysis has been seeking its place between the natural sciences and hermeneutics, denounced by some as mechanistic and by others as unscientific. This amazing book brings together a myriad of brilliant minds to shed light on this false choice, where precisely psychoanalysis is played out in its legitimacy as a discipline of the mind, in clinical research. The conversations it brings together have an additional merit: its editors come from the Southern Hemisphere. Those of us who work in these southern confines look at the school disputes being debated in the North with a certain skepticism, which allows us to look at the different perspectives from an advantageous point of view that facilitates integration. This is a book that every psychiatrist, psychologist, psychotherapist, and psychoanalyst who is passionate about borderline questions should study. Whoever reads it will not be disappointed." - Prof. Juan Pablo Jimenez, Director of the Chilean Millennium Institute for Research on Depression and Personality, MIDAP.