Recovery-Oriented Cognitive Therapy for Serious Mental Health Conditions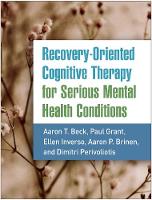 Reviews and Endorsements
"Optimism is one of the hallmarks of cognitive therapy, yet when it comes to schizophrenia and other psychotic disorders, pessimism has persisted in many treatment settings. One of the first rays of sunlight came when Beck et al. published their previous book on schizophrenia. Now Beck and his colleagues move us further to positive change in both our treatment approaches and our conceptualization of what is possible for our patients. It is clear that the authors have spent many years listening to people with serious mental illness and learning from them about optimal ways to enable their path to recovery. For professionals who work with those suffering from serious mental illness, this book is invaluable. I expect it will become a standard text in graduate courses and residency curriculums dealing with therapeutic interventions. It will certainly be a primary resource for all of us involved in clinical research on psychotic disorders." - Elaine F. Walker, PhD, Charles Howard Candler Professor of Psychology and Neuroscience, Emory University.

"This is the first book to re-envision the core work of psychotherapy from the perspective of the recovery movement. Beck and his team not only shift from a traditional cognitive therapy focus on symptoms to a focus on aspirations and adaptation, but also provide practical tools for assisting people to identify and pursue their life goals. CT-R is a strength-based, life-affirming approach that draws on people's inner stores of resilience to deal effectively with life's challenges. This concrete guide, illustrated with case examples, will be of value to both experienced practitioners and trainees. Psychotherapists who have yearned for ways to embrace recovery-oriented care in practice finally have a trusted, highly experienced, and wise guide." - Larry Davidson, PhD, Professor of Psychiatry and Director, Program for Recovery and Community Health, Yale University.

"Aaron Beck is one of the few heroic figures in the history of psychiatry; his CBT has helped more people than any other of the many psychotherapies developed in the past two centuries. Together with his highly talented team, Beck has set and met a most difficult new challenge--developing a special version of CBT for those who suffer from the most severe psychiatric disorders. This volume presents CT-R, a brilliant hybrid of standard CBT with techniques derived from the recovery movement. Beck is a great clinician who fills every page with profound wisdom, vast experience, technical savvy, practical common sense, and the empathic realization that we are all more simply human than otherwise. This is the go-to book for all who are dedicated to serving the people who most need our help, and CT-R will surely soon become part of the standard of their care." - Allen Frances, MD, Professor Emeritus and former Chair, Department of Psychiatry and Behavioral Sciences, Duke University.