The Practice of Lacanian Psychoanalysis: Theories and Principles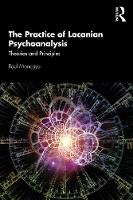 Book Details
Publisher : Routledge
Published : 2020
Cover : Paperback
Pages : 286
Category :
Lacanian Psychoanalysis
Catalogue No : 95356
ISBN 13 : 9780367342371
ISBN 10 : 9780367342
Reviews and Endorsements
"There are many, too many, introductions to Jacques Lacan; this book is not one of them. For here Raul Moncayo methodically performs a remarkable feat: he does to Lacan what Lacan did to Freud, operating a true 'return to Lacan' from a US-based clinical practice that reinvigorates psychoanalytic theory and praxis. This original book is demanding but worth the effort - a Lacan for the 21st century!" - Patricia Gherovici, PhD, psychoanalyst and author of Transgender Psychoanalysis: A Lacanian Perspective on Sexual Difference.

"This original, erudite and thought-provoking book continues Raul Moncayo's unique interrogation of Lacanian theory and practice. Bringing a wide range of references, from philosophy of science to mathematics, anthropology, psychiatry and psychology, he makes Lacan's texts and seminars as fresh and surprising as they ought to be. This is a book not only for students new to the field but also for seasoned Lacanians. It is zesty, highly readable and profound." - Darian Leader, psychoanalyst and author.

"Raul Moncayo offers profound and crucial linkages among clinical experience, psychoanalytic theory, and Lacanian practice. Throughout the book, matters pertaining to the clinic are inseparable from theoretical considerations that draw from the long history of Lacan's teaching. Dr. Moncayo speaks to diagnosis and desire, as well as the frame, aims, ends and structural considerations at play in various phases of a Lacanian treatment. The book is a vital resource for anyone who aspires to practice Lacanian psychoanalysis and further the promise of psychoanalysis currently in history." - Annie G. Rogers, PhD.