Attachment, Trauma and Multiplicity: Working with Dissociative Identity Disorder: Second Edition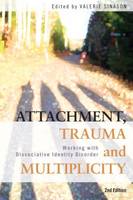 Book Details
Publisher : Routledge
Published : 2011
Cover : Paperback
Pages : 248
Category :
Attachment Theory
Category 2 :
Trauma and Violence
Catalogue No : 30136
ISBN 13 : 9780415491815
ISBN 10 : 0415491819
Reviews and Endorsements
Contents
Part I: Mapping the Territory: Childhood Aetiology, Abuse, Attachment Theory Research, Dissociation, Dissociative Identity Disorder. Sinason, Introduction. Fonagy, Multiple Voices versus Meta-cognition: an Attachment Theory Perspective. Steele, Multiplicity Revealed in the Adult Attachment Interview: When Integration and Coherence Means Death. Bentovim, Undoing the Effects of Complex Trauma - Creating a Lifespan Trauma Narrative with Children and Young People. Swartz, Dissociation and Spirit Possession in Non-Western Countries: Notes Towards a Common Research Agenda.
Part II: Attachment Focus: Mainly Theory. Sachs, As Thick as Thieves, or: the Ritual Abuse Family - an Attachment Perspective on a Forensic Relationship. Southgate, A Theoretical Framework for understanding Multiplicity and Dissociation. Zulueta, Post-traumatic Stress Disorder and Dissociation: The Traumatic Stress Service In The Maudsley Hospital. Mollon, Dark Dimensions of Multiple Personality.
Part III: Attachment Focus - Mainly Practice. Sinason, The Shoemaker and the Elves. Goodwin, Snow White and the Seven Diagnoses. Richardson, Will You Sit By Her Side? An Attachment-based Approach to Work with Dissociative Conditions. Whewell, Profound Desolation: the Working Alliance with Dissociative Patients in an NHS Setting.
Part IV: Other frames of reference: Linguistic, Diagnostic, Forensic and Historic Issues. Galton, Dissociation Sounds More Scientific. Coleman, Dissociative Disorders: Recognition within Psychiatry and RAINS. Sinason, Interview with Detective Chief Inspector Clive Driscoll. Kahr, Multiple Personality Disorder and Schizophrenia: an Interview with Professor Flora Rheta Schreiber. Information for People With DID and Professionals Working With Them. Index.