Bion Today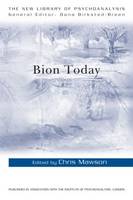 Book Details
Publisher : Routledge
Published : 2010
Cover : Paperback
Pages : 352
Category :
Psychoanalysis
Catalogue No : 29841
ISBN 13 : 9780415570725
ISBN 10 : 0415570727
Reviews and Endorsements
'This is a very stimulating, at times almost provocative, book. It will make a fresh and valuable contribution to our thinking about the nature and significance of Bion's work today.'
- Betty Joseph, Distinguished Fellow of the British Psychoanalytical Society.

Contents:
PART I: Introduction to Bion. Mawson, Introduction: Bion Today: Thinking in the Field. O'Shaughnessy, Whose Bion?
PART II: Mainly Conceptual. Fisher, The Emotional Experience of K. Britton, The Pleasure Principle, the Reality Principle and the Uncertainty Principle. Bell, Bion: The Phenomenologist of Loss. Taylor, Anticipation and Interpretation. Cortinas, Science and Fiction in the Psychoanalytical Field.
PART III: Mainly Clinical. Ferro, Clinical Implications of Bion's Thought. O'Shaughnessy, Relating to the Superego. Levine, 'The Consolation Which Is Drawn From Truth': The Analysis of a Patient Unable to Suffer Experience. Grotstein, A Clinical Vignette Encompassing Bion's Technical Ideas. Mitrani, Taking the Transference: Some Technical Implications in Three Papers by Bion.
PART IV: Aesthetic. Dartington, W. R. Bion and T. S. Eliot. Sayers, Bion's Transformations: Art and Psychoanalysis.
PART V: Group Mentality. Armstrong, The Plurability of Experience. Garland, Group Therapy: Myth in the Service of Work. Lipgar, Learning from Bion's Legacy to Groups. Gordon, Some Neglected Clinical Material from Bion's Experiences in Groups.
PART VI: Bion's Later Work. Vermote, Bion's Critical Approach to Psychoanalysis. Waddell, 'From Resemblance to Identity': The Internal Narrative of a Fifty Minute Hour. Harris-Williams, 'Underlying Pattern' in Bion's Memoir of the Future.
Appendix.