The Later Lacan: An Introduction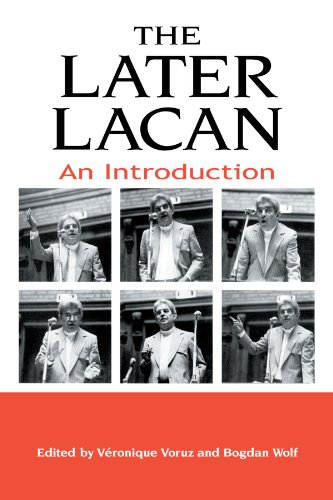 Book Details
Publisher : State University of New York Press
Published : 2007
Cover : Paperback
Pages : 276
Category :
Reprinting
Category 2 :
Lacanian Psychoanalysis
Catalogue No : 25501
ISBN 13 : 9780791469989
ISBN 10 : 0791469980
Reviews and Endorsements
There are few books devoted to the later Lacan. This book will be consulted regularly as a reference point for those Anglophones who continue to follow Lacanian teaching in order to articulate what it means to have a subject of the unconscious. Lacan is not going away and books like this keep the knowledge living in dialogue with its clinical context. - Kareen Malone, coeditor of 'After Lacan: Clinical Practice and the Subject of the Unconscious'

"It is momentous to have, after nearly a decade, a book that features so many of the most eminent members of the École de la Cause Freudienne. None of the essay collections on Lacan that have been published have made available the highly significant, ongoing work of this French school in English." - Maire Jaanus, coeditor of 'Lacan in the German-Speaking World'

Table Of Contents

Preface - Véronique Voruz and Bogdan Wolf
Acknowledgments
Part I The Letter and the Limits of Interpretation
Interpretation in Reverse - Jacques-Alain Miller
Discretion of the Analyst in the Post-interpretative Era - Pierre-Gilles Guéguen
The Purloined Letter and the Tao of the Psychoanalyst - Eric Laurent
Part II From the Analytic Symptom to the Sinthome
The Sinthome, a Mixture of Symptom and Fantasy - Jacques-Alain Miller
Two Statuses of the Symptom: "Let Us Turn to Finn Again" - Jean-Louis Gault
Hysteria and Sinthome Marie-Hélène Brousse
Identification with the Symptom at the End of Analysis - Esthela Solano-Suárez
Part III A Psychoanalytic Clinic of Psychosis
From the Elementary Phenomenon to the Enigmatic Experience - Herbert Wachsberger
Three Enigmas: Meaning, Signification, Jouissance - Eric Laurent
A Child through the Mirror- Gabriela van den Hoven
Part IV Jouissance, the Object, Anxiety
Jacques Lacan and the Voice - Jacques-Alain Miller
Embarrassment, Inhibition, and Repetition - Alexandre Stevens
A Lacanian Reading of Dora - Véronique Voruz
Gaze and Representation - Richard Klein
The Perception and Politics of Discourse - Bogdan Wolf
Part V Sexuation
Love and Sex Beyond Identifications - Alexandre Stevens
Feminine Positions of Being - Eric Laurent
Women and the Symptom: The Case of the Post-Freudians - Pierre-Gilles Guéguen
Sexual Position and the End of Analysis - Marie-Hélène Brousse
Afterword: The Response of Psychoanalysis to Cognitive-Behavioral Therapy - Jacques-Alain Miller
Index
About the Contributors

Contributors include Marie-Hélène Brousse, Jean-Louis Gault, Pierre-Gilles Guéguen, Richard Klein, Eric Laurent, Jacques-Alain Miller, Esthela Solano-Suárez, Alexandre Stevens, Gabriela van den Hoven, Véronique Voruz, Herbert Wachsberger, and Bogdan Wolf.

Véronique Voruz is a Lacanian Psychoanalyst and Lecturer in Law and Criminology at the University of Leicester, United Kingdom. Bogdan Wolf is a Lacanian Psychoanalyst practicing in London, United Kingdom.