From Trauma to Harming Others: Therapeutic Work with Delinquent, Violent and Sexually Harmful Children and Young People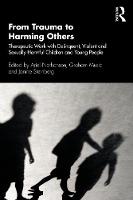 About the Editor(s)
Ariel Nathanson is a Consultant Child and Adolescent Psychotherapist. He is the clinical lead for the treatment of the under 21s at the Portman Clinic, where he has been working for many years, specialising in the assessment and treatment of children, adolescents and young adults who display perverse, delinquent and violent behaviours.
Graham Music is a Consultant Child Psychotherapist and Associate Clinical Director at the Tavistock Clinic in London. His main clinical interests are in developing services in community settings such as schools, and in working with children who are Looked after or adopted, and the adults in their lives. He teaches on many courses and trainings in Britain, and abroad, is on the editorial board of the child psychotherapy journal and has published particularly on the interface of developmental research and therapeutic practice. He is also an adult psychotherapist working in private practice.
Janine Sternberg is a Consultant Child and Adolescent Psychotherapist at the Portman Clinic, Tavistock and Portman NHS Trust, having worked for many years at the Tavistock Mulberry Bush Day Unit. She trained originally as a child psychotherapist at the Tavistock Clinic and subsequently as an adult psychotherapist at the BAP. She is very involved in training issues in both institutions and active in the professional body for child psychotherapists, the ACP. She is currently Joint Editor of the Journal of Child Psychotherapy.