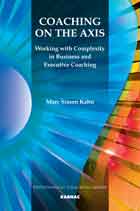 Book Details
Publisher : Routledge
Published : June 2014
Cover : Paperback
Pages : 224
Category :
Coaching
Category 2 :
Organisational Psychology
Catalogue No : 33263
ISBN 13 : 9781780491363
ISBN 10 : 1780491360
Our Customers Average Rating
Read all reviews (3)





This book offers an approach to business and executive coaching that properly aligns the practice in the culture of business through the use of a relational "coaching axis" that helps to manage the complexity of the organisation and the individual as dual clients.
Business and executive coaching occurs within an organisational context with the goal of promoting success at all levels of the organisation by affecting the actions of those being coached (Worldwide Association of Business Coaches, 2007). This form of coaching is distinct from other types in two ways, firstly it is focused on achieving business outcomes, and secondly, both the individual being coached and the sponsoring organization are simultaneously the client.
This book explains how a coach manages the complexity of helping these two clients by acting as a narrative bridge between their stories. It offers a relational approach which resists remedial or curative notions born from coaching's human science roots and instead aligns to workplace realities. Chapters 1 -3 explore three interlocking paradigms for coaching that culturally align to the context of business. Firstly, in working with the complexity of client, systems theory is explored. Secondly, in working with the complexity of organisational culture, the notion of culture is unpacked. Thirdly, in exploring the complexity of theory, an eclectic and integrative theoretical approach is unpacked and the notion of the scientist-practitioner is explored. The remainder of the book explains the "Coaching on the Axis" approach. This approach captures the way coaching interfaces with business across three systemic dimensions situated on a hypothetical "axis." It further outlines a method to track themes, elicit insights and test actions systemically along this axis using a narrative methodology. Finally, a case study is provided. Ultimately, the book aims to assist coaches in properly aligning their practice with business, honouring the culture from which this work derives its legitimacy and sanction, and significantly increasing its likelihood of success.
Reviews and Endorsements
'At last, a sophisticated and business-savvy account of business and executive coaching. Marc Kahn's book represents an important shift in how we understand the world of business coaching. His examination of complexity theory, psychology, and business challenges many of the hidden (and not-so-hidden) assumptions imported into business coaching from counselling. This is a welcome and important contribution in the field. It should be on every coach's bookshelf and inform every coach's practice.'
—Dr Michael Cavanagh, Deputy Director, Coaching Psychology Unit, Sydney University, Australia

'In this exceptional book, Marc Kahn succeeds in planting the emerging service of coaching firmly in the modern business context. This is a work that will, in my opinion, deservedly take its place in the business canons of the twenty-first century.'
— Peter Frampton, President of Accounting Comes Alive International and co-author of Accounting Comes Alive and Color Accounting, Geneva, Switzerland

'In this masterful contribution to business coaching. Marc Kahn has instigated a paradigm shift. Grappling with the indefatigable concerns of business, this work offers a new approach, aligning multiple and complex perspectives. This book is a must-have, not only for every coach's library, but also for every leader's.'
— Dr Sunny Stout-Rostron, Founding Fellow, Institute of Coaching at McLean Hospital, a Harvard Medical School Affiliate, South Africa

'This is a brilliant book that powerfully articulates the focal "axis" of attention for business coaches, and ultimately defines the most important factors for success.'
— Dr Paddy Pampalis, Executive Director, Centre for Integral Business and Leadership, Cape Town, South Africa

'I welcome this sage and authentic book, and encourage all HR practitioners, leaders, and coaches to read, and heed, its important messages.'
—Bev Cunningham, Vice President, Group Human Resources, Ricoh Europe PLC, London, UK

'One of the most insightful books on business coaching I have ever read.'
— Allon Raiz, CEO, Raizcorp and bestselling author of Lose the Business Plan and What to Do When You Want to Give Up, South Africa

'This work will become essential reading for anyone in the field.'
—Dr Jacqui Farrants, Consultant Psychologist, City University, London, UK

'I was riveted. I simply couldn't put it down.'
— Marc Feitelberg, clinical psychologist, executive coach, and founder of The South African College of Applied Psychology

'A must-read for those who are serious about being professional and ethical business coaches.'
— Wendy Johnson, President and CEO, Worldwide Association of Business Coaches WABC®,Vancouver, Canada

'Regardless of the modality you prefer as a coach, this text will add depth and understanding to your practice. An undeniable contribution.'
— Craig Bloomstrand, international coach and mentor, author of Wise Men Look and Every Story Casts a Shadow, Minneapolis, USA

'This is a fantastic read, providing a really good sense of the amazing benefits business coaching can bring to an executive when it is delivered properly - on the "axis".'
—Brett Morris, Group CEO, FCB South Africa

About the Author(s)
Marc Simon Kahn is a Chartered Business Coach™ with the Worldwide Association of Business Coaches (WABC), a Clinical Psychologist with registrations in both South Africa and Australia, and a seasoned management and organization development consultant. He is currently head of Human Resources & Organisation Development for Investec Ltd., a listed financial services corporation. Prior to this he was managing director of a management consultancy which specialized in large-scale learning and development solutions, competency-based assessments and coaching programmes in both the private and public sectors. He began his career as a clinical psychologist in private practice where for nine years he focused on adult psychotherapy as well as psychological assessments for medico-legal cases for which he regularly gave evidence as an expert witness in the High Court of South Africa.
Marc has been consulting to organizations for twenty years, having worked at scale across the coaching industry as a provider, teacher, supervisor and corporate procurer of business and executive coaching services. He was one of the early developers of coaching in South Africa and led the establishment of the first Code of Ethics for COMENSA (Coaches and Mentors of South Africa) in 2004, and was its first Chair of Ethics. He also sat on the Worldwide Association of Business Coaches International Certification Program Expert Panel in 2005 and 2006. Marc lectures at universities and business schools, has published several papers in peer-reviewed academic journals on the subjects of coaching and psychology and has appeared regularly as an expert guest on radio and television.



Customer Reviews
Our customers have given this title an average rating of 5 out of 5 from 3 review(s), add your own review for this title.
Chris Bolton on 24/06/2018 08:07:49





(5 out of 5)
This is an astounding contribution to our field. Finally someone has brought us clarity about the difference between coaching in business and life coaching. And not only that, Kahn goes on to show exactly how to make sure coaches deliver to business in a way that warrants the fees coaches ask nowadays.
Henk Struwig on 21/06/2014 06:24:55





(5 out of 5)
Coaching on the Axis is a bold statement about the value of coaching as a systemic and cross-disciplinary service to the business world. Marc Kahn expertly examines the evolution of modern coaching from its origins in psychology against the actual requirements for its success in the culture of business. This book is for serious coaches who are truly interested in tangible improvements for the organisations with which they work. Highly recommended!
Lesley-Anne Gatter on 06/06/2014 06:13:43





(5 out of 5)
Coaching on the Axis is groundbreaking, not only for coaches, but for business leaders. It's the first text I have seen that skillfully weaves strategy, performance, and organisational culture into the conversation about executive and business coaching. Marc Kahn's book is well-crafted, combining practical tools with insightful theory. He masterfully explains the complexity involved in managing a 'duality of client' in business coaching practice. It is an important read for both organizations and individuals who are committed to using business coaching for learning and development. This seminal text will, no doubt, be used to steer coaching practices going forward in the corporate world.
You may also like