Mastering Intensive Short-Term Dynamic Psychotherapy: A Roadmap to the Unconscious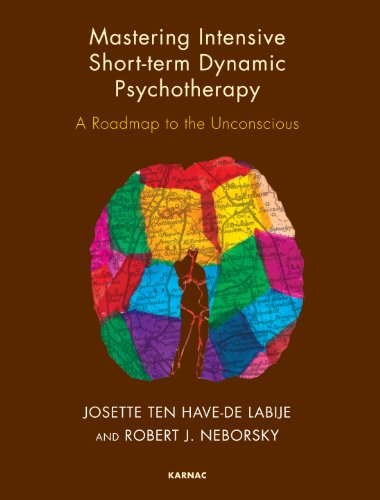 Also by Josette Ten Have-de Labije
Our Customers Average Rating
Read all reviews (2)





Over two decades, on two continents, Josette ten Have-de Labije and Robert J. Neborsky have struggled to define and perfect the therapeutic methods of Habib Davanloo. Between the two of them, they run active training groups in San Diego, Los Angeles, San Francisco, Washington, D.C., London, Amsterdam, Warsaw and Scandinavia. In individual practice, in teaching situations and in partnered study, they have worked carefully to translate the theory and application of the revolutionary clinician's approach. This textbook defines the terms: observing ego, attentive ego, punitive superego, transference, transference resistance, unconscious therapeutic alliance, working alliance, unconscious impulse, in very precise and clinically meaningful ways.
David Malan advised that Davanloo's technique needs to be modified and softened if it is to be accepted by the majority of therapists Readers will discover that ten Have-de Labije and Neborsky have surpassed Malan's advice and have taken the practice of Intensive Short-Term Dynamic Psychotherapy to a new plateau. Mastering Intensive Short-Term Dynamic Psychotherapy translates Davanloo's intuitive genius into precise language and operations that students can learn in a systematic and clear way. Thus, applying their methodology fulfills the promise of short term, effective, and safe psychotherapy for a broad spectrum of highly resistant psychoneurotic and characterolgically disturbed patients.
Reviews and Endorsements
'This is the best description and guide to intensive short-term dynamic psychotherapy. It is practical, detailed, easy to follow, and a fantastic resource to any training programme for this treatment modality.'
- Professor Peter Fonagy, PhD, FBA, Head of Research Department of Clinical, Educational and Health Psychology and Chief Executive of the Anna Freud Centre, London

'Josette ten Have-de Labije and Rob Neborsky offer a detailed analysis of how one can rapidly utilize an effective therapeutic alliance to allow clients to gain clarity about their emotional vicissitudes. They do this with a judicious blend of psychoanalytic theory, illuminating case studies, and sensitive descriptions of intrapsychic emotional dynamics that need to guide effective therapeutic transitions. With vivid transcriptions of the necessary challenging interactions that must be initiated between therapists and patients, Labije and Neborsky highlight how skilled clinicians can effectively help clients develop the mental clarity and insight needed to break through maladaptive defenses that have long been used to resist needed change. Mastering Intensive Short-Term Dynamic Psychotherapy is an invaluable resource for clinicians seeking guidance on how to break through to the hidden feelings that lie beyond the anxiety engendering defenses that so often retard the seeking and restoration of emotional coherence and thereby mental health and vitality.'
- Jaak Panksepp, PhD, Baily Endowed Professor of Animal Well Being Science, Washington State University, author of Affective Neuroscience: The Foundations of Human and Animal Emotions

'Through the year, I have had the privilege of participating in several workshops given by Drs ten Have-de Labije and Neborsky. At each juncture, I emerge as a better clinician. Thus, I began reading their latest contribution with great enthusiasm and anticipation. And I was not disappointed. Indeed, I was rewarded with a scholarly yet pragmatic, comprehensive yet concise, clear and articulate guide to this powerful, transformative therapy, ISTDP. Master teachers, ten Have-de Labije and Neborsky beautifully illustrate each major point with pithy case vignettes, often demonstrating both the "less informed" and the "more accurately targeted" therapeutic responses. Each chapter is a gem, but the ones on fostering the working alliance and treating patients with are especially meaningful to me, given my own clinical interests, and chapters that I will surely reread. As a clinician, this is a book that will stay on by bookshelf, ready to be referenced as specific patient issues arise. As a psychiatry training director and educator, it will be high on my recommended reading list for students seriously interested in learning psychotherapy.
- Sidney Zisook, MD, Professor and Residency Training Director, University of California San Diego and San Diego VA Healthcare System

'This exceptional book distils the essence of ISTDP in a totally new and distinctive way. Drs ten Have-de Labije and Neborsky have remarkably operationalized this difficult technique into a sequential series of interventions that expose patients to their unconscious trauma with an approach that is both safe and effective. They show how the method can be applied with a gentle firmness, and observing a series of "traffic lights" based on the patient's response to each intervention. The book outlines each aspect of the "central dynamic sequence" and gives step-by-step instructions on how to overcome anxiety, superego resistance, and transference resistance. Ultimately, it demonstrates how a successful therapy leads naturally to a resolution of a patient's reaction to his trauma and to the development of positive mental health. The clinical examples, using verbatim vignettes from actual treatments, are organized around common clinical syndromes in an immensely useful way. Impressively, the authors have made it possible for students to learn how to treat difficult psychoneurotic patients in a therapy of months rather than years.'
- David Malan D.M. F.R.C.Psych.
About the Author(s)
Josette ten Have-de Labije, PsyD, registered psychologist-psychotherapist and clinical psychologist, started her professional career in 1972 at the department for Neuro- and Psychophysiology of the Free University of Brussels. Thereafter she has worked in the Netherlands at a public mental health center for ambulant (non-residential) patients as coordinator of the Behavior Therapy Department and member of the Diagnostic Staff. Since 1990 ten Have-de Labije, who is Dutch by birth, has worked in private practice. As supervisor and trainer of the Dutch Association for Cognitive and Behavior therapy, she has supervised and and taught post-graduate courses in behavior therapy at the Universities of Utrecht and Amsterdam and several post-doctorate courses and workshops. As supervisor and trainer of the Dutch Association for Short-Term Dynamic Psychotherapy and of the South California Institute for AG-STDP she has led several post-doctorate courses and workshops. She has organized several national and international conferences on Behavior Therapy, cancer treatment and mental health, and ISTDP.
More titles by Josette ten Have-de Labije
Robert J. Neborsky, M.D., is a psychiatrist in private practice in Del Mar, California, and a Clinical Professor of Psychiatry at UCSD School of Medicine as well as UCLA School of Medicine (Hon). He is member of the Board of Directors of the International Experiential Dynamic Psychotherapy Association. He was a founding member on the Editorial Board of the International Journal of Short-Term Dynamic Psychotherapy. He is currently guest editor of the Ad Hoc Bulletin of Short-Term Dynamic Psychotherapy. In 1981, while training with Dr. Habib Davanloo, he co-founded the San Diego Institute for Short-Term Dynamic Psychotherapy. He co-authored Short-Term Therapy for Long Term Change (Norton, 2001) and is a contributing author in Healing Trauma (Norton, 2003). In 2003, Dr. Neborsky was honored by the UCLA School of Medicine Clinical Faculty Association as the Distinguished Psychiatric Lecturer of the Year for 2002. In 2003 he was one of the founders of the Southern California Society for ISTDP and was elected president. In 2008 he was appointed Distinguished Life Fellow of the American Psychiatric Association. Dr. Neborsky's professional activities include treating patients, training students in the techniques of Attachment-Based variety of Intensive Short-Term Dynamic Psychotherapy (ISTDP), presenting at local, national and international symposia, and completing a textbook book on AB-ISTDP with Josette ten Have-de Labije, PsyD. He is actively researching the interface between attachment theory and psychotherapy.
Customer Reviews
Our customers have given this title an average rating of 3 out of 5 from 2 review(s), add your own review for this title.
Melissa Jones on 08/04/2018 10:08:14





(1 out of 5)
A simplistic and disappointing depiction of ISTDP.
Dr S. Lewis, London on 25/02/2014 17:13:16





(5 out of 5)
Brilliant overview of theory and practice. Invaluable!

This book is a comprehensive overview of both theory and practice of ISTDP, an evidence based psychotherapy. Robert Neborsky and Josette ten Have-de Labjije have refined these techniques (building on the initial formulations of Davanloo & Malan) and then presented a clear strategy for specific approaches when dealing with different psychological disorders.

The first chapters in the book deal with theoretical background including: explanations of psychoneurosis and attachment trauma; regulation of anxiety; and the role of defences. In my view the approach taken by ISTDP in understanding and treating anxiety is groundbreaking and has added a powerful dimension to my own psychotherapy practice. The authors also describe an approach to dealing with resistance in treatment (or defenses) which has the potential to derail the therapy process. Their method is both active and respectful and encourages development of a partnership in the therapeutic relationship that allows the patient ot develop to their highest potential.

One word of warning: the theoretical chapters are extremely detailed and can feel overwhelming to absorb in one go even if you are familiar with the method. It may be useful to read these in "chunks" while skipping forward to the more active chapters on technique before returning to the earlier chapters as and when needed.

Later chapters deal with specific disorders, including: phobias, depressive disorders and somatisation. A final chapter deals with the phase of termination. What I found exceptionally useful about this book is that each chapter contains both a theoretical overview of the disorder, followed by detailed vignettes from clinical cases. There are examples of helpful interventions as well as common "errors". It is structured in such a way as to make it easy to dip in and out of these chapters when working with clients with similar presentations.

I would highly recommend this book to any clinician interested in the practice of dynamic psychotherapy.

You may also like