Lorraine Bell
Lorraine Bell is a Consultant Clinical Psychologist with Solent NHS Trust, fellow of the British Psychological Society and leads the Psychological Therapies Service in secondary mental health for Portsmouth. She is also the Suicide Prevention and Dialectical Behavior Therapy lead for the Trust.
Showing 1 to 3 of 3 items


People with eating disorders often exhibit serious misconceptions about their own body image. "Overcoming Body Image Disturbance" provides a treatment programme (piloted by the authors) for people... (more)

The manual describes the problem areas, the skills needed to overcome them and how these skills can be developed. It is designed to be used with the help of professional mental health staff, ideally... (more)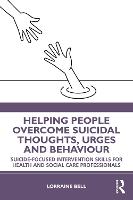 Helping People Overcome Suicidal Thoughts, Urges and Behaviour draws together practical and effective approaches to help individuals at risk of suicide.
The book provides a framework and... (more)
Showing 1 to 3 of 3 items