Francis Grier
Francis Grier is an Associate Member of the British Psychoanalytical Society. He is also a Full Member of the Society of Couple Psychoanalytic Psychotherapists. He is a Visiting Research Lecturer at the Tavistock Marital Studies Institute, where he was previously a Senior Marital Psychotherapist and Clinical Lecturer. He has a private practice for individuals and couples. He edited Brief Encounters with Couples: Some Analytical Perspectives, which was published by Karnac in 2001.
Showing 1 to 2 of 2 items


Deriving from a conference organised by the Tavistock Marital Studies Institute, the present volume draws the main focus of its inquiry from a few fundamental questions.
In its various brief... (more)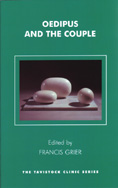 This title consists of a diverse series of contributions and reflections on couples and the Oedipus complex from leading psychotherapists and psychoanalysts in the couples field. All contributors... (more)
Showing 1 to 2 of 2 items