Paul Terry
Paul Terry is a consultant clinical psychologist in private practice. During a career in public health spanning four decades Paul has worked in child, adolescent, adult mental health, forensic settings, and latterly in a specialist mental health service for older people. In tandem with clinical practice, he was lecturer in Counselling at Birkbeck College, University of London.
Showing 1 to 2 of 2 items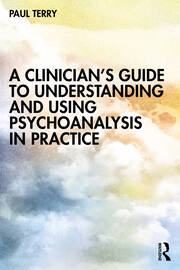 This book provides an intimate portrait of a clinician's psychoanalytic approach to working in the public health sector with people suffering from acute and chronic emotional pain.
Drawing on... (more)

This in-depth study of reflective therapeutic practice with older people is packed with clinical case studies and useful commentaries.It applies therapeutic skills through real life examples. Three... (more)
Showing 1 to 2 of 2 items