Working with Vulnerable Children, Young People and Families: Second Edition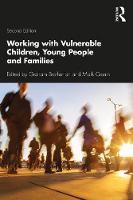 This fully revised and expanded edition considers the meaning of 'vulnerability' - a key concept in early intervention - and the relationship between vulnerability and the individual, communities and society. It includes new chapters on children's voices, young people and vulnerability, and working with vulnerable parents.
Introducing students to a broad debate around what constitutes vulnerability and related concepts such as risk and resilience, it examines how vulnerability has been conceptualised by policy makers with a clear focus on early intervention for preventing social problems later in life. It adopts a case study approach, using chapters examining the concept of vulnerability from sociological, psychological and social policy perspectives before looking at examples around leaving care, victims of violence, sexual abuse, and the Internet.
Supporting students in engaging with and evaluating the conceptualisation and application of vulnerability in professional practice, this book is suitable for anyone either preparing for or currently working within the children's workforce, from social work and health care to education and youth work.
About the Editor(s)
Graham Brotherton works in Academic Partnerships at Leeds Trinity University, UK. He was previously Head of Working with Children, Young People and Families at Newman University. He has interests in working with families and safeguarding. Prior to teaching in Higher Education, he worked in a number of social care roles as both a practitioner and manager.
Mark Cronin is a Senior Lecturer in Early Childhood Education and Care at Newman University. Prior to entering higher education, he worked as a Children and Families Social Worker in both the statutory sector as part of a local authority care management team and the voluntary sector in a community-based family centre. He has also worked for a number of other voluntary organisations involved in family support and direct work with children. His particular interests are social policy, care experienced children and young people, safeguarding and working with children and families.
You may also like