Working with Spiritual Struggles in Psychotherapy: From Research to Practice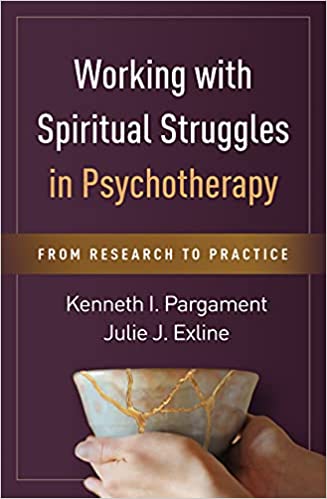 Book Details
Publisher : Guilford Press
Published : February 2022
Cover : Hardback
Pages : 393
Category :
Individual Psychotherapy
Catalogue No : 96005
ISBN 13 : 9781462524310
ISBN 10 : 1462524311
Also by Kenneth I. Pargament Does my life have any deeper meaning? Does God really care about me? How can I find and follow my moral compass? What do I do when my faith is shaken to the core? Spiritual trials, doubts, or conflicts are often intertwined with mental health concerns, yet many psychotherapists feel ill equipped to discuss questions of faith. From pioneers in the psychology of religion and spirituality, this book combines state-of-the-art research, clinical insights, and vivid case illustrations. It guides clinicians to understand spiritual struggles as critical crossroads in life that can lead to brokenness and decline--or to greater wholeness and growth.
Clinicians learn sensitive, culturally responsive ways to assess different types of spiritual struggles and help clients use them as springboards to change.
Reviews and Endorsements
"Pargament and Exline--two psychology of religion luminaries--provide new insights into people's fork-in-the-road spiritual struggles. This book interweaves compelling cases, stimulating concepts, and scientific evidence. It enables professionals to reflect on their own and others' spirituality, and on how to offer guidance in dark times. A first-rate work that marries scholarship with clinical and pastoral application." - David G. Myers, PhD, Department of Psychology, Hope College.

"Spiritual struggles can affect clients in numerous ways and on many levels, yet most clinicians are not trained to detect them, let alone assess them or make them a focus in treatment. Pargament and Exline provide a wealth of information, guidance, and case examples--and they do so with great compassion. The authors widen our clinical lens and open our eyes to an often-neglected life domain. Clinicians of all orientations and levels of experience will benefit from raising their awareness about how to incorporate spiritual struggles into comprehensive case formulations and treatment plans. A truly valuable contribution!" - Joan Davidson, PhD, Co-Director and Founding Partner, San Francisco Bay Area Center for Cognitive Therapy; Assistant Clinical Professor, University of California, Berkeley.

"Rarely does a book come along that informs clinicians about practical interventions, synthesizes and advances an entire field of basic and clinical research, and moves readers emotionally. Pargament and Exline have created a modern classic that you'll want to read cover to cover." - Everett L. Worthington, Jr., PhD, Emeritus Commonwealth Professor, Department of Psychology, Virginia Commonwealth University.

"This book, by two masters in the field of psychology of religion, draws together many years' research and reflection on the relationship between spirituality and well-being. With its strong empirical base, well-developed conceptual framework, and sure-footed practical approach, it will be invaluable to spiritual directors, pastoral counselors, and mental health professionals wishing to extend their understanding of spirituality in the lives of their clients." - Joanna Collicutt, PhD, University of Oxford, United Kingdom.
About the Author(s)
Kenneth I. Pargament, PhD, is Professor Emeritus of Psychology at Bowling Green State University. He has pioneered studies on the vital role of religion and spirituality in coping with stress and trauma. A clinical psychologist, Dr. Pargament has been a leading figure in the effort to integrate research on religion and spirituality into clinical practice. He has received the William James Award from Division 36 (Society for the Psychology of Religion and Spirituality) of the American Psychological Association (APA), the Oskar Pfister Award from the American Psychiatric Association, and the Outstanding Contributor to the Applied Psychology of Religion and Spirituality Award from APA Division 36, of which he was the inaugural recipient.
More titles by Kenneth I. Pargament
Julie J. Exline, PhD, is Professor in the Department of Psychological Sciences at Case Western Reserve University. Her primary research interests focus on spiritual struggles and supernatural attributions. Dr. Exline is a clinical psychologist and was certified as a spiritual director through the Ignatian Spirituality Institute at John Carroll University. She is a past president of the Society for the Psychology of Religion and Spirituality (Division 36 of the American Psychological Association) and is a recipient of the Society's Margaret Gorman Early Career Award, Virginia Sexton Mentoring Award, and William James Award, in recognition of her research in the psychology of religion and spirituality.
You may also like