Working With Difficult Patients: From Neurosis to Psychosis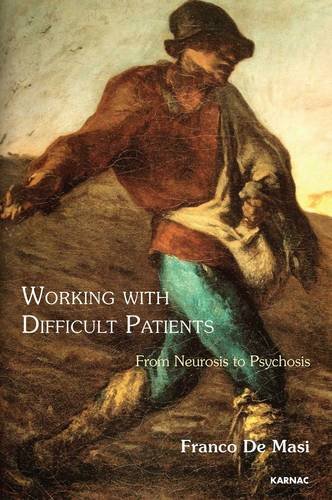 Book Details
Publisher : Routledge
Published : April 2015
Cover : Paperback
Pages : 352
Category :
Psychoanalysis
Catalogue No : 34500
ISBN 13 : 9781782200437
ISBN 10 : 1782200436
Also by Franco De Masi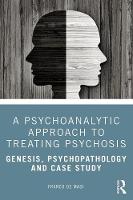 In this book the author examines the series of connections that give rise to the intimate relationship between environment and individual in the construction of emotional suffering, emphasising both the undisputed pathogenic action of environmental stimuli and the active participation of whoever is obliged to suffer the negative situation. Franco De Masi shows that the way in which one tries to escape suffering is what often seriously jeopardises growth.
The aim of Working with Difficult Patients is to point out the intrinsic link between some forms of mental suffering and the distorted responses that the patient has received from his or her original environment. For this reason the author explores the concept of the emotional trauma in particular, since this trauma, which occurs in the primary relationship, often impels the child into relational withdrawal and towards constructing pathological structures that will accompany him or her for the rest of their life. The chapters are ordered according to a scale of increasing treatment difficulty, which is proportional to the potential pathogenicity of the underlying psychopathological structure. Consequently, the borderline state and the psychotic state are located at either end of an axis of progressive complexity and difficulty towards change.
The author endeavours to set out a panorama of the main psychopathological entities as he has encountered them and indeed still encounters them in his clinical activity, presenting the material according to a criterion that highlights the differences between the individual case histories. A number of chapters in the second part of the book attempt to clarify the various psychic processes that underlie some frequently encountered psychopathologies.
Reviews and Endorsements
'Franco De Masi is an original and humane voice in psychoanalysis; he has the courage to take on tough topics – suicide bombers, facing the pain of death, and now, working with difficult patients. He writes with clarity, and with convincing clinical illustrations. This book will be enlightening to professionals working in the mental health field and beyond.'
— Irma Brenman Pick, Training Analyst and Distinguished Fellow of the British Psychoanalytical Society

'Dr De Masi's new book is an impressive account of his work with "difficult" patients and what we can learn from them about ourselves. Based on his rich clinical experience, he invites us to explore the borderline area between neurosis and psychosis and to share his discoveries in this field. An outstanding contribution not only for the practising psychoanalyst, but also for all those who are confronted with these multifaceted pathologies and phenomena in their daily clinical work.'
— Prof. Dr. med. Heinz Weiss, Head of the Department of Psychosomatic Medicine, Robert-Bosch-Krankenhaus, Stuttgart; Managing Director of the Medical Section, Sigmund-Freud-Institut, Frankfurt a.M.; lecturer, University of Tübingen, Germany

'In Working with Difficult Patients, Franco De Masi shares a lifetime of clinical experience and creative thought about the treatment of patients who suffer from early trauma, significant disturbances in early object relationships (over-intrusiveness, insufficient responsiveness), and the pathological organisations that follow in their wake. The broad reach of this integrative work has deep roots in the writings of Bion, Winnicott, and the neo-Kleinians, especially Rosenfeld, Meltzer, Segal, Steiner, and Brenman. This book should prove of great interest and value to any clinician engaged in the analytic treatment of the wide range of psychopathological conditions that lie beyond neurosis and classical technique, from the borderline to the psychotic, and all the possible variations and presentations – addictions, perversions, eating disorders, etc – that lie between.'
— Howard B. Levine, MD, supervising analyst at the Massachusetts Institute for Psychoanalysis and co-editor of Unrepresented States and the Construction of Meaning

'Franco De Masi's writing is concise, scholarly, and illuminating. In this new book, a conceptual and clinical inquiry into core aspects of serious disturbance in neurotic and psychotic individuals, he conveys insights and formulations that will be of great value to any clinician assisting severely disturbed patients make changes in their lives, which they also experience as unattainable. An immensely valuable contribution.'
— Paul Williams, former Joint Editor-in-Chief, International Journal of Psychoanalysis
About the Author(s)
Franco De Masi is a Training and Supervising Analyst of the Italian Psychoanalytical Society and former President of Centro Milanese di Psicoanalisi and Secretary of the Training Milanese Institute. He is a medical doctor and a psychiatrist who worked for twenty years in psychiatric hospitals. Now he lives and works as a full time psychoanalyst in Milan. Currently his main interests are focused on the theoretical and technical psychoanalytical issues related to severely ill patients. He has published several papers in The International Journal of Psychoanalysis and in the Rivista Italiana di Psicoanalisi. He is author and editor of numerous books including Making Death Thinkable.
You may also like