Working with Children and Parents Through Separation and Divorce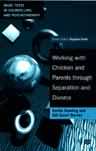 Also by Gill Gorell Barnes

Also by Emilia Dowling
This text combines research, clinical and practical approaches to working with children and parents going through stressful changes linked to separation or divorce. A focused approach to divorce related problems, taking each family member's views into account, is illustrated. 211 pages.
About the Author(s)
Emilia Dowling is a Consultant Child Psychologist and systemic psychotherapist and former Head of Child Psychology at the Tavistock Clinic.
Gill Gorell Barnes works as a family, marital, and couple therapist in private practice and consults to other therapists of different modalities. For ten years she worked as Consultant to Family Court Proceedings in the UK Family Courts, both as therapist and expert witness. She has written a book on family life in transition following divorce, as well as a book on working with children and parents and a research project on stepfamilies. She has also written a number of publications that focus on working with highly acrimonious post-divorce relationships.
You may also like