Work Matters: Consulting to leaders and organizations in the Tavistock tradition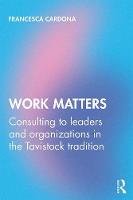 Book Details
Publisher : Routledge
Published : April 2020
Cover : Paperback
Pages : 144
Category :
Organisational Psychology
Catalogue No : 94958
ISBN 13 : 9780367313180
ISBN 10 : 0367313189
Work is complicated: It can be fulfilling and exciting, or disappointing and disruptive. We spend most of our adult lives at work; it shapes our identities and provides a context for our creativity and talents. It can be the source of great pleasure - and of profound distress.
In Work Matters, organizational consultant and Tavistock lecturer Francesca Cardona examines our changing relationship with work today. Drawing on case studies from a wide range of individuals and organizations, she considers the dynamics at play in our working lives. Cardona examines how to navigate times of transition, and the balance of power in the work place, while also addressing latent issues such as the effects of shame, the cost of ill-conceived organizational structures and tasks, the interface between the personal and the professional, and the manager's most precious skill: the ability to be psychologically present. Finally, Cardona casts an eye on the consultant's role in helping organizations move forwards in ways that are professionally and personally rewarding.
Whether you are a business leader, manager, consultant or student, or simply interested in how your work affects you, Work Matters offers essential insights into an area that occupies so much of our lives.
Reviews and Endorsements
"A thinker of considerable talent, Francesca Cardona has long been a leading consultant working in the Tavistock tradition. Her writing, like her work, is full of highly useful and sometimes surprising observations and insights. This fascinating book will be of enormous value to a range of people working in and with organizations" -
Prof Mark Stein, Chair in Leadership & Management, University of Leicester.

"Cardona's experience and wisdom as a consultant shine through. With engaging examples and exceptional candour about her own experience, she brings forward many of the complexities and dilemmas that face the organizational coach/consultant … an essential resource for students wanting to learn a sensitive and effective approach" - Susan Long, author of The Perverse Organisation and its Deadly Sins.
.
"An essential book for consultants and managers … [providing] a deeper understanding of the personal, professional and organizational challenges in today's world" - Jim Krantz, Principal, Worklab Consulting and Fellow, AK Rice Institute USA.
About the Author(s)
Francesca Cardona is an organizational consultant and teacher of consultancy and coaching in the Tavistock tradition. Italian by birth, she has been based in London since the mid-eighties. She works in a variety of organizational and cultural contexts, helping leaders and organizations to face issues of change, transition and the emotional dimension of organizational life. She is an experienced speaker and delivers a range of talks based on her work.
You may also like