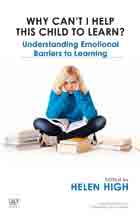 The book outlines theories of child development from the point of view of the kinds of relationships children make with adults and the effects of their relationships on their learning. In addition, anxieties that some children show about reading, writing and arithmetic are described. In exploring these issues the book draws on Attachment Theory and on Psychoanalytic theories of emotional development. It includes detailed case studies to illustrate ways in which children's learning can be hindered by their difficulties in relating to teachers and the feelings and fantasies that some children have about words and letters. There has been recent political concern that children should all learn to read in their early years at school and extra help should be offered to those who are falling behind. The expectation in political circles seems to be, however, that straightforward extra help with reading will be sufficient, in all cases, to enable a child who has fallen behind to catch up. There has been no general recognition of the need to address underlying emotional problems in some cases, such as those described in this book.
Reviews and Endorsements
'This book will prove to be a valuable resource for anyone working with children and adolescents in schools. whether as teacher, teaching assistant, learning mentor, psychologist, or therapist. The contributions from leaders in the field of Educational Psychotherapy and the vignettes from direct work with children bring the issues to life and provide insight into the links between blocks to learning and the inner worlds of children and young people.'
- Biddy Youell, Child and Adolescent Psychotherapist, Tavistock and Portman NHS Foundation Trust

'This book could be an important addition to the shelves of teachers and also of parents, worried when their otherwise competent children come to a standstill in their learning at school. It is a distillation of fifty years experience of educational psychotherapists in their work with children who struggle with reading, writing, and arithmetic. The theory underlying this work is presented in a very accessible way and illustrated throughout by compelling accounts of the difficulties some children have had and their resolution. The book offers hope and ways of thinking about the problems that many children and families experience at some time in their lives.'
- Eileen Orford, Honorary Consultant Child and Adolescent Psychotherapist, Tavistock Clinic and the British Association of Psychotherapists

'Helen High and her colleagues have written a first-rate exposition of the relevance and value of educational psychotherapy. Detailed and fascinating case studies root the theory in the real world of children and their families. Although of primary interest to educationalists, this eminently readable book will be of value to all those, including foster carers, who work on a daily basis with those children and young people who struggle with learning as a result of their adverse life experiences and subsequent emotional difficulties.'
- Jim Rose, Director of Social Care, The Fostering Foundation
About the Editor(s)
Helen High is a retired educational psychotherapist and child and adolescent psychotherapist. She formerly taught on, and served on the training committee of, the child and adolescent psychotherapy training at the British Association of Psychotherapists, London. She is a founder member of the Caspari Foundation, London, which runs the training in educational psychotherapy - a method of working with children whose emotional problems give rise to difficulties in learning that is the subject of this book. She has had ten articles published, eight of them in professional journals and two as chapters in books. Having graduated in psychology at Manchester University, Helen went on to take the postgraduate certificate in education there. She then taught for three years in primary schools in London. She trained as an educational psychologist at the Tavistock Clinic, where Irene Caspari was one of her tutors and supervised her on work with children who were failing to learn to read adequately in spite of normal intelligence. This was the work that Caspari developed, combining remedial teaching with activities that lend themselves to self-expression, that is now known as educational psychotherapy.
You may also like