What My Bones Know: A Memoir of Healing from Complex Trauma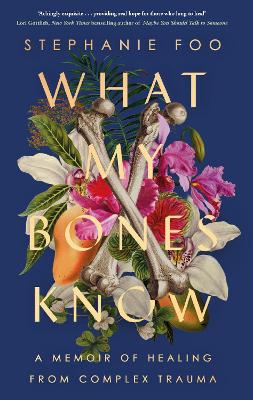 Book Details
Publisher : Atlantic Books
Published : April 2022
Cover : Hardback
Pages : 333
Category :
Trauma and Violence
Category 2 :
Memoir
Catalogue No : 96433
ISBN 13 : 9781911630944
ISBN 10 : 1911630946
"Every cell in my body is filled with the code of generations of trauma, of death, of birth, of migration, of history that I cannot understand. . . . I want to have words for what my bones know."
By the age of thirty, Stephanie Foo was successful on paper: she had her dream job as an award-winning radio producer at This American Life and a loving boyfriend. But behind her office door, she was having panic attacks and sobbing at her desk every morning. After years of questioning what was wrong with herself, she was diagnosed with Complex PTSD - a condition that occurs when trauma happens continuously, over the course of years.
Both of Foo's parents abandoned her when she was a teenager, after years of physical and verbal abuse and neglect. She thought she'd moved on, but her new diagnosis illuminated the way her past continued to threaten her health, relationships, and career. She found limited resources to help her, so Foo set out to heal herself, and to map her experiences onto the scarce literature about C-PTSD. In this deeply personal and thoroughly researched account, Foo interviews scientists and psychologists and tries a variety of innovative therapies. She returns to her hometown in California to investigate the effects of immigrant trauma on the community, and she uncovers family secrets in the country of her birth, Malaysia, to learn how trauma can be inherited through generations. Ultimately, she discovers that you don't move on from trauma - but you can learn to move with it.
Powerful, enlightening and hopeful, What My Bones Know is a brave narrative that reckons with the hold of the past over the present, the mind over the body - and examines one woman's ability to reclaim agency from her trauma.
Reviews and Endorsements
"As Foo sheds necessary light on the little-discussed topic of C-PTSD, she holds out the hope that while 'healing is never final . . . along with the losses are the triumphs' that can positively transform a traumatized life. . . . A sharp, insightful and stirring memoir" - Kirkus Reviews

"Foo's writing is shrewdly insightful. In telling her story so compellingly, she joins authors such as Anna Qu and Ly Tran in adding nuance to the 'model minority' myth, if not actively subverting it. . . . Highly recommended" - Library Journal

"This is a work of immense beauty" - Publishers Weekly

"Many trauma survivors struggle to describe the seemingly indescribable sense of carrying something intangibly sharp - something there but not there - inside. But in What My Bones Know, Stephanie Foo details that and more. Her achingly exquisite memoir takes us on a journey through complex trauma, illuminating her path of self-discovery and providing real hope for those who long to heal" - Lori Gottlieb, New York Times bestselling author of Maybe You Should Talk To Someone

"What My Bones Know is an absolute triumph. Foo's beautifully written memoir is a balm and a light for anyone afraid that their early traumas have permanently stunted their capacity for connection, love, and purpose. This book is a must-read for anyone hungry for hope" - Christie Tate, New York Times bestselling author of Group

"Stephanie Foo's incredible memoir speaks to so many things at once: the horrors of an abusive childhood, the enduring power of trauma, the messy science of the brain and the lifelong quest for meaning and healing. Funny and tragic, unflinchingly honest and relentlessly hopeful, What My Bones Know is a marvel of a book" - Ed Yong, New York Times bestselling author of I Contain Multitudes

"Foo's journalistic eye serves her generously through a hard-won examination of trauma and its aftermath. I cried while turning the pages; I knew that I was witnessing an astonishing literary endeavour. For others who live with C-PTSD, this is a crucial, life-changing book" - Esme Weijun Wang, New York Times bestselling author of The Collected Schizophrenias

"At turns funny and devastating, terrifying and transcendent, Foo's quest for understanding should be relevant not just to someone with C-PTSD but to anyone seeking to grow and be present in this one life" - Jenny Odell, New York Times bestselling author of How To Do Nothing

"In What My Bones Know, Stephanie Foo mines her past in search of answers, uncovering what it means to navigate trauma over generations. With striking candidness, Foo takes readers on her journey to understand her diagnosis of complex PTSD, weaving together reporting and personal history. A testament to Foo's determination, What My Bones Know is an act of reclamation - and a bold, defiant proclamation: 'I am here' - Kat Chow, author of Seeing Ghosts
About the Author(s)
Stephanie Foo is a writer and radio producer, most recently for This American Life. Her work has aired on Snap Judgment, Reply All, 99% Invisible and Radiolab. A noted speaker and instructor, she has taught at Columbia University and has spoken at venues from Sundance Film Festival to the Missouri Department of Mental Health. She lives in New York City with her husband.
You may also like