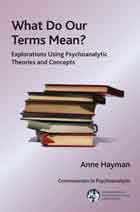 Book Details
Publisher : Routledge
Published : July 2013
Cover : Paperback
Pages : 188
Category :
Psychoanalysis
Catalogue No : 33779
ISBN 13 : 9781780491837
ISBN 10 : 1780491832
Theoretical and clinical progress in psychoanalysis continues to develop new concepts and to reconsider old ones, often in contradiction with each other. By confronting and opening these debates, we might find points of convergence but also divergences that cannot be reconciled; the ensuing tension among these should be sustained in a pluralistic dialogue.
Reviews and Endorsements
'With the creation of the "Project Committee on Conceptual Integration", the International Psychoanalytical Association has recently stressed once again the need to try and give greater coherence to our current psychoanalytical terminology. With respect to this important issue, the reader of Anne Hayman's book What do our Terms Mean? will undoubtedly find convincing first-hand material to think upon. Active, attentive and a perceptive witness for a long time of the most important theoretical and scientific debates within the British Psychoanalytical Society, she has recollected in this volume some of her most valuable and historical writings, which cannot but strongly interest all those who are passionate in the history and the development of psychoanalytical thinking.

Anne Hayman's articles range from an exhaustive discussion of such fundamental concepts as the "inner world", "phantasy", the "Id", Bion's "Catastrophic Change" and others, to her very thoughtful evaluation of the general issues raised by psychoanalytic words and terms, from her research on Marjory Brierley and the historical period of the "Controversial Discussions" to the complicated question of legal "evidence and motives" discussed by her from a strictly psychoanalytical point of view. I am therefore sure that this volume, which enriches the IPA Controversies in Psychoanalysis series, will encounter the favour of all psychoanalysts and psychoanalytical students worldwide.'
- Gennaro Saragnano, MD, psychiatrist and psychoanalyst, Chair of the Publications Committee of the International Psychoanalytical Association
About the Author(s)
Anne Hayman, FRCPsych, MRes, DPM, is a Foundation Member and Fellow of the Royal College of Psychiatrists. She was a training analyst of the British Psychoanalytical Society, a child analyst, and the author of numerous journal articles and contributions to books.
You may also like