Voluntary Madness: My Year Lost and Found in the Loony Bin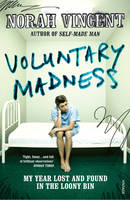 Book Details
Publisher : Vintage
Published : 2010
Cover : Paperback
Pages : 304
Category :
Popular Psychology
Catalogue No : 29306
ISBN 13 : 9780099513438
ISBN 10 : 0099513439
Norah Vincent has always suffered from depression but at the end of a book project that required her to spend eighteen months disguised as a man she felt that she was a danger to herself and was committed to a loony bin. As a result of this traumatic experience Norah came out resolved to go back undercover to report on a range of mental institutions - three difficult, pressurized and very different environments - and to experience first hand their effect on the body and mind.
Her journey starts in a huge inner city hospital where most patients are repeats, often poor and dispossessed. There Norah confronts the boredom and babbling of an underfunded facility: a place where medication is a process of containment: its purpose to make life easier for the rest of us, not the patients themselves. Cut to the calming green carpet of St Lukes: plenty of loonies here too of course but Norah is taken aback when her doctor allows her to reduce her medication, have a room of her own and a regular jog in the park. Then to Mobius, and a Buddhist-inspired brand of healing, where Norah is forced to plunge deep into her emotional past, and swim through the psycho-babble to some unexpected conclusions.
In Voluntary Madness, Norah Vincent takes a fearless and unprecedented view of mental health care - from the inside out. She demonstrates the power of common sense and human connection: how much better a patient can feel when treated like a person and not a petri dish. In analysing the peculiar, sometimes damaging and occasionally transformative relationships between patients and their caregivers, her consummate, fearless and darkly funny reportage makes for riveting reading.
You may also like