Veganism and Eating Disorder Recovery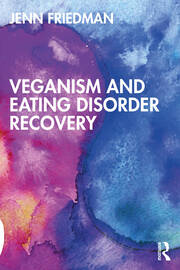 Book Details
Publisher : Routledge
Published : January 2023
Cover : Paperback
Pages : 188
Category :
Eating Disorders
Catalogue No : 96927
ISBN 13 : 9781032316239
ISBN 10 : 9781032316
This book addresses the eating disorder field's misconceptions about veganism with the goal of realigning the discourse about veganism and non-veganism in eating disorder recovery.
Veganism and eating disorders are often associated with one another in the eating disorder field, leading to the widely adopted belief that following the dietary component of veganism may inhibit recovery from an eating disorder. Friedman posits that this belief is founded on an oversimplified view and counters it by exploring the ethical dimensions of veganism. In this book, Friedman looks at ideas perpetuated around veganism and recovery, including the potential harm to vegans prohibited from following veganism in treatment centers. Veganism and Eating Disorder Recovery| culminates in a prospective proposal for a "vegan-informed" eating disorder recovery model, which may be adapted for clients' individual needs.
Friedman lays a foundation for an improved discourse on veganism and eating disorders by drawing from a wide range of resources, including academic research, blog posts, eating disorder literature, and anecdotes. This accessible text will appeal to professionals and eating disorder clients alike, enabling them to collaborate under optimal conditions.
Reviews and Endorsements
"As a registered dietitian specialized in eating disorders who has been in this field for over three decades, I can wholeheartedly say that FINALLY, a book that courageously, compassionately, and collaboratively brings a controversial issue – veganism and eating disorders - to the forefront is here! Jenn Friedman walks the reader through where we are now as a profession, what our challenges continue to be, and where we need to go in spite of and because of any differences we, as clinicians, may have within our own opinions and beliefs. Friedman graciously asks all of us to bring our beliefs and prejudices around veganism and eating disorders towards the light so the shadows of misunderstanding can be seen, heard, discussed, and healed. I recommend this enlightening book, and its guidelines on how to become vegan-informed, to any and all practicing clinicians who work with clients who have eating disorders in general and who practice veganism specifically." - Tammy Beasley, MS, RDN, CEDS-S, LD.

"Jenn Friedman has done a great job in this book by challenging therapists to examine their own socially-supported bias and unconscious prejudice against veganism, that inevitably interferes with the therapeutic alliance. She draws on a wide range of literature to highlight the separation between an individual's chaotic relationship with eating and the philosophical and ethical stance of not eating animals. This book dispels the myth that veganism is an eating disorder variant whilst highlighting the important distinction between the mental and existential anguish of vystopia and the philosophical basis upon which a vegan lives their life." - Clare Mann, psychologist and author of Vystopia: The Anguish of Being Vegan in a Non-Vegan World
About the Author(s)
Jenn Friedman, MA, MHC-LP, obtained her counseling master's degree at Goldsmiths, University of London and New York State licensure prerequisites at the University of Buffalo. She provides therapy in New York City.
You may also like