Two Cases from Jung's Clinical Practice: The Story of Two Sisters and the Evolution of Jungian Analysis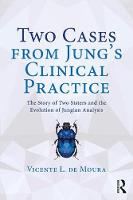 Book Details
Publisher : Routledge
Published : April 2019
Cover : Paperback
Pages : 194
Category :
Jung and Analytical Psychology
Catalogue No : 94360
ISBN 13 : 9780367143336
ISBN 10 : 036714333X
Two Cases from Jung's Clinical Practice places two key cases, those of Mischa Epper and Maggy Reichstein, into the context of Jung's work in the 1920s and provides a complete assessment of their place within his writings. Presented in three parts, it first examines Jung's disappointment with contemporary treatments and theories and his break from Freud and the development of his own ideas, and then summarises the history of his more famous patients.
In Part 2, de Moura examines Epper's case, which is recognised as an essential part of the development of the concept of active imagination, as well as how it is connected to the work of Jung's collaborator Maria Moltzer. Finally, Part 3 assesses the case of Reichstein, which emerges as a key contribution to Jung's writings on Eastern and Western psychology, transference and countertransference, mandalas and, in particular, synchronicity. Two Cases from Jung's Clinical Practice provides a comprehensive and personable picture of Jung and his interactions with these two patients, giving us valuable data about a time when his practice was still evolving.
A unique and insightful study, this book will be an essential work for academics and students of Jungian and post-Jungian theory, analytical psychology, and the history of psychoanalysis and psychology. These cases will also be of great interest to analytical psychologists and Jungian analysts in practice and in training.
You may also like