Trauma and Expressive Arts Therapy: Brain, Body, and Imagination in the Healing Process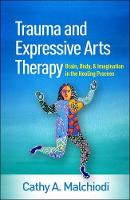 Book Details
Publisher : Guilford Press
Published : June 2020
Cover : Hardback
Pages : 406
Category :
Expressive Arts Therapies
Catalogue No : 95098
ISBN 13 : 9781462543113
ISBN 10 : 1462543111
Also by Cathy Malchiodi


From pioneering therapist Cathy A. Malchiodi, this book synthesizes the breadth of research on trauma and the brain and presents an innovative framework for treating trauma through the expressive arts. The volume describes powerful ways to tap into deeply felt bodily and sensory experiences as a foundation for safely exploring emotions, memories, and personal narratives. Rich clinical examples illustrate the use of movement, sound, play, art, and drama with children and adults.
Malchiodi's approach not only enables survivors to express experiences that defy verbalization, but also helps them to transform and integrate the trauma, regain a sense of aliveness, and imagine a new future. Purchasers get access to a companion website where they can download and print reproducible tools from the book in a convenient 8 1/2" x 11" size, as well as full-color versions of 26 figures.
About the Author(s)
Cathy A. Malchiodi, PhD, ATR-BC, LPCC, LPAT, REAT, is a psychologist, expressive arts therapist, and art therapist specializing in trauma recovery. She is the founder and executive director of the Trauma-Informed Practices and Expressive Arts Therapy Institute, which trains mental health and health care practitioners in medical, educational, and community settings and assists in disaster relief and humanitarian efforts throughout the world. Dr. Malchiodi has given more than 500 presentations in the United States, Canada, Europe, the Middle East, Asia, and Australia, and has published numerous articles, chapters, and books, including Understanding Children's Drawings and Creative Interventions with Traumatized Children, Second Edition. Dr. Malchiodi has received numerous awards for distinguished service, clinical contributions, and lifetime achievements, including honors from the Kennedy Center and Very Special Arts in Washington, DC. A passionate advocate for the role of the arts in health, she is a contributing writer for PsychologyToday.com.
You may also like