Transference and Countertransference from an Attachment Perspective: A Guide to Clinical Practice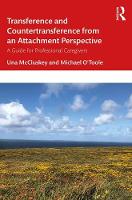 Book Details
Publisher : Routledge
Published : September 2019
Cover : Paperback
Pages : 126
Category :
Attachment Theory
Category 2 :
Psychoanalysis
Catalogue No : 94664
ISBN 13 : 9780367340988
ISBN 10 : 9780367340
Also by Una McCluskey
Locating the phenomenon of transference within an evolutionary perspective, this important book develops a new form of dynamic therapy that focuses on the dynamics of attachment in adult life and will be of use to a range of mental health professionals and those at all levels in the caring and education professions. Transference and Countertransference from an Attachment Perspective: A Guide to Clinical Practice explores the ways in which transferential phenomena can be located in the different aspects of the self that are instinctive, goal-corrected and interrelated.
At the centre of the book is the idea that when intrapersonal or interpersonal systems (aspects of the self, such as careseeking, caregiving, sharing interests, sexuality, self-defence, building a home) get aroused, the behaviour that follows is only logically and meaningfully connected when the system (aspect of the self) reaches its goal. Placing this new theoretical and clinical approach within the psychoanalytic tradition, the work of developmental psychologists and the field of neuroscience, the book takes us to the heart of the clinical encounter and explores a range of issues including trauma, the effect of early misattunements, love and hate in the therapeutic relationship, burnout in caregivers, and the need for exploratory care for caregivers themselves. Building on the therapeutic modality that emerged from the research described in McCluskey's To Be Met as a Person (2005), this book provides a valuable guide for psychologists, psychotherapists, nurses, social workers, organisational consultants, teachers, coaches, and workplace managers.
The McCluskey model for exploring the dynamics of attachment in adult life which underlies the work described in this book is currently being practised in a variety of settings and with different ages and communities. These include end-of-life care, organizations, homelessness, mental health, dementia care, children, adolescents and families, schools, pastoral work, training of clinical psychologists and attachment-based psychoanalytic psychotherapists, occupational therapy, art therapy, private practice, domestic violence, police training, GP support and consultation, nurse training and support, pain management clinics, foster carers, social workers, couple relationships, supervision of psychotherapists and counsellors, therapeutic communities, and complex grief and learning disabilities.
About the Author(s)
Una McCluskey graduated from University College Dublin, did her professional social work training at the University of Edinburgh, and got her PhD from the University of York. She has written extensively on individuals, couple, family and group systems, and has developed her own model for exploring attachment dynamics in adult life. Her research on affect attunement in adult psychotherapy led her to develop a theory of interaction for psychotherapy and particularly to identify and rate the concept of goal corrected empathic attunement. Throughout the last ten years she has been providing courses for workers and experienced professionals in the field of psychology, psychotherapy, social work, medicine, organisational management and development, education, nursing, art therapy, legal practice, religious and pastoral carers, to enable them explore their own dynamics of attachment in adult life as outlined by the work of Heard and Lake and to check its application to their personal and work life.
You may also like