Transcending Addiction: An Existential Pathway to Recovery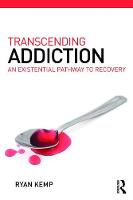 Book Details
Publisher : Routledge
Published : June 2018
Cover : Paperback
Pages : 208
Category :
Addictions
Catalogue No : 40180
ISBN 13 : 9781782205883
ISBN 10 : 1782205888
Addiction is often thought about in terms of cause, be that brain chemistry, attachment patterns, or cognitive schemas. But this does not allow an understanding of what addiction 'is'. It does not illuminate how addiction is lived. A phenomenology of addiction reveals that addiction is characterised by an intolerance of pain, a pursuit of pleasure, immediacy, technocratic solutions, alienation, ambiguity and is drenched in deception. These are its individual clinical manifestations, but this is also the way life, in this century is lived.
The addict is thus the ultimate 21st century subject, consuming without end, intolerant of emotion and unable to grasp their own limitations. Rather than embraced, these subjects act as a denied symptom, haunting late capitalism and exposing the vampire-like nature of our culture. As such, these subjects need to be treated not just as individuals who have "gone too far", but as victims of the political agenda shaping our lives.
Thus the heart of the book is a description of addiction deepened by existential-phenomenological theory. This description is then used to understand the historical emergence of addiction, its socio-political manifestation and also the crucial issue of how to clinically treat the addict-subject.
You may also like