Theoretical and Clinical Perspectives on Narrative in Psychoanalysis: The Creation of Intimate Fictions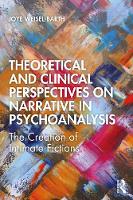 Book Details
Publisher : Routledge
Published : December 2020
Cover : Paperback
Pages : 190
Category :
Psychoanalysis
Catalogue No : 95447
ISBN 13 : 9780367542511
ISBN 10 : 9780367542
This book is of and about psychoanalytic stories. It describes the personal, theoretical, and cultural stories that patients and analysts bring, create, and modify in analytic work. It shows how the joint creation of new life narratives over time results in transformed senses of self and relationship.
Flowing from the tradition of narrative theory, these stories seek to recast the creation of analytic narratives in social contexts and contemporary relational theories. They depict ongoing therapeutic process and heightened interactive events and moments that together expand personal scope and change life directions for both partners in the analytic dyad. Its stories illuminate sometimes difficult and arcane analytic theory, bringing the meanings and utility of theory into living action. They also show how familiar emotions such as love, hate, envy, and loneliness, and active human values such as empathy, generosity, and good faith function in psychoanalytic interaction. In short, these analytic stories are useful teaching tools.
The narrative tales in this book address a wide range of history and emotions in both patients and analyst. The patients, fictionalized characters from a lifetime of analytic practice, are protagonists with backgrounds of trauma, loss, relational and geographical dislocation, but also successful adaptations and struggle toward self-development. Some of their stories describe intense short-term work and others long-term analytic relationships. The subjective experience and responses of the analyst are also central parts of the analytic fictions.
The book will be invaluable to readers curious about psychoanalysis, for therapists, and especially for teachers of therapeutic issues and process.
Reviews and Endorsements
"In describing the analytic process as "intimate fiction", Joye Weisel-Barth, writing about her clinical work like a good novelist, captures why I have for years avoided reading much of the psychoanalytic literature and embraced in its stead, contemporary novels. Perhaps it takes someone like Dr. Weisel-Barth and her background in literature, to bring to life what actually transpires in the intersubjective clinical situation, unencumbered by allegiances and obeisance to jargon-filled and overly intellectualized theoretical religions. I hope that this rich and vital book serves as an exemplar, inspiring a new era of readable and vivid psychoanalytic writing."
- Irwin Hirsch ,PhD, NYU Postdoctoral Program in Psychoanalysis and Psychotherapy, The William Alanson White Institute.

"What Joye Weisel-Barth offers us in this beautifully written collection of essays is an original approach to understanding the work we do. Joye contends that over the course of their hours together, patient and analyst write and rewrite the patient's life narrative in such a way that the emerging story feels both true and acceptable, and capable of supporting a more expansive sense of future possibility. This unique vision of therapeutic process is vividly portrayed in numerous clinical vignettes where troubled lives are seen to deepen with new meaning and potential. I love this exquisitely rendered book especially for the hope it engenders for our patients and our profession." - Estelle Shane, Institute of Contemporary Psychoanalysis.

"In this collection of beautifully written, often dramatic, clinical stories, Joye Weisel-Barth emerges as one of our psychoanalytic pioneers. Combining a complex grasp of contemporary theory with the courage always to be thoughtfully authentic with her patients and readers, Weisel-Barth pushes the limits of analytic acceptability in the service of giving her most challenging patients what they truly need from her. Moreover, she is as open about treatment failures as she is about her successes, always seeking to learn from her experience, and help us do the same. In short, Theoretical and Clinical Perspectives on Narrative in Psychoanalysis deepens and complicates our understanding of what it means to work relationally." - Steven Stern, Psy.D.Clinical Associate Professor, Tufts University School of Medicine and Maine Medical Center.
About the Author(s)
Dr. Joye Weisel-Barth is a senior instructor, training analyst, and supervisor at the Institute of Contemporary Psychoanalysis in Los Angeles. Her psychological and analytic practice is in Encino, California. Joye is a frequent contributor to major psychoanalytic journals and serves on several editorial boards.
You may also like