The Wounded Researcher: Research with Soul in Mind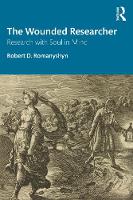 Book Details
Publisher : Routledge
Published : September 2020
Cover : Paperback
Category :
Jung and Analytical Psychology
Catalogue No : 95332
ISBN 13 : 9780367468422
ISBN 10 : 9780367468
Also by Robert D. Romanyshyn
The Wounded Researcher addresses the crises of epistemological violence when we fail to consider that a researcher is addressed by and drawn into a work through his or her complexes. Using a Jungian-Archetypal perspective, this book argues that the bodies of knowledge we create degenerate into ideologies, which are the death of critical thinking, if the complexity of the research process is ignored. Writing with soul in mind invites us to consider how we might write down the soul in writing up our research.
Reviews and Endorsements
'Soul work and academic research have been so split apart that both have been lamed - soul psychology without intellectual respectability and scholarly research utterly irrelevant to the soul's concerns. Romanyshyn's book not only follows from all his earlier diligent explorations in the Western history of soul, but charts a course that joins the integrity of scholarly work with devotion to the soul's vital needs. New winds, new directions, new methods.' - James Hillman.

'In this sparkling new book, Romanyshyn re-imagines depth psychology as a praxis of "research that keeps soul in mind" in several ways at once: as a practice of mourning what has been lost in one's experience; as an alchemical hermeneutics that consists in transference dialogues with one's unconscious psyche; and as an ethics of self-examination by the researcher that acknowledges his or her wounded state in the complexes that underlie perception and judgment. Building on the premise that the chasm between psyche and nature must be bridged, Romanyshyn re-visions both therapy and theory. Therapy becomes much more sensitive to the imagistic in its attention to reverie; theory reinstates the archetypal, collective and psychoid unconscious as primary reality. This exciting book takes bold steps that are as original as they are timely.' - Edward S. Casey, SUNY at Stony Brook; Pacifica Graduate Institute

'Like Orpheus who steps into the gaps of seemingly unbridgeable differences, Romanyshyn has alchemically transformed our understanding of what it means to do truly profound and ethical psychological research. This groundbreaking contribution to the field of Jungian/archetypal psychology and hermeneutic phenomenology could well begin a revolution in the way psychological research is imagined and practiced.' - Stanton Marlan, Jungian psychoanalyst, Adjunct Clinical Professor of Psychology, Duquesne University.

'Romanyshyn engagingly explores the gap between the motivation to do embodied, soulful research and the failure of language to communicate the unknowable core that can give meaning to a research project. For students on the dissertation journey, this book is a map that makes it possible to travel in territory traditionally excluded from academia. Romanyshyn defends his controversial proposition with passion and a powerful dedication to introducing eros into academic research.' - Ginette Paris, Core Faculty, Pacifica Graduate Institute, author of The Wisdom of the Psyche: Beyond Neuroscience.
About the Author(s)
Robert D. Romanyshyn is Emeritus Professor of Psychology at Pacifica Graduate Institute, an affiliate member of the Inter-Regional Society of Jungian Analysts, and a Fellow of the Dallas Institute of Humanities and Culture, USA.
You may also like