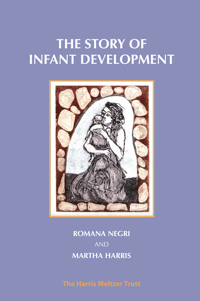 Book Details
Publisher : Harris Meltzer Trust
Published : April 2018
Cover : Paperback
Category :
Psychoanalysis
Catalogue No : 93475
ISBN 13 : 9781912567096
ISBN 10 : 1912567091
Also by Martha Harris
Also by Romana Negri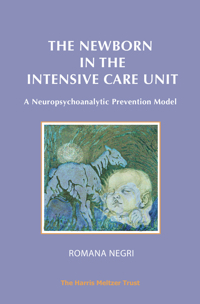 This book brings together the closely observed development of Simone (from birth to three) and the perceptive comments of Martha (or Mattie) Harris, who was such an influential figure in the development of the Observational Studies Course at the Tavistock. Romana Negri's pioneering work on neonatal intensive care units is informed both by infant observation and by psychoanalysis. She presents in this volume the transcribed tapes of her detailed observation of a normally developing infant, whom Martha Harris supervised for three years. Other chapters present observations of children in hospital that formed part of their diagnostic assessment, and the book includes commentaries by Donald Meltzer and Martha Harris together. This book will be of outstanding interest to all readers whether parents, teachers, or mental health professionals who wish to deepen their understanding of the roots of mental life.
About the Author(s)
Romana Negri graduated in medicine and trained as a child neuropsychiatrist at the University of Milan. From 1970 onwards she attended the seminars of Martha Harris and Donald Meltzer and commenced work projects inspired and influenced by their teaching. From 1976 to 2004 she was a consultant in the Special Care Baby Unit at the Caravaggio Hospital, Treviglio, publishing some of her research findings in The Newborn in the Intensive Care Unit. Since 1982 she has been a professor at Milan University, teaching in the paediatric department of the School of Medicine and the School of Psychiatry and Psychology. She is also responsible for early pathology consultation at the Sacco Hospital in Milan. She has published over one hundred papers in the field of early psychopathology and child psychiatry in Italy, Germany, France, Spain, and England.
Martha Harris (1919-1987) read English at University College London and then Psychology at Oxford. She taught in a Froebel Teacher Training College and was trained as a Psychologist at Guys Hospital, as a Child Psychotherapist at the Tavistock Clinic, where she was for many years responsible for the child psychotherapy training in the department of Children and Families, and as a Psychoanalyst at the British Institute of Psychoanalysis. Together with her first husband Roland Harris (a teacher) she started a pioneering schools counselling service. With her second husband Donald Meltzer she wrote a psychoanalytical model of The Child in the Family in the Community for multidisciplinary use in schools and therapeutic units.
You may also like